Chocolatier Brings Taste of Ghana to Chattanooga
The first time East Brainerd-based chocolatier Ella Livingston tasted Nama chocolate from her homeland of Ghana while studying abroad in Japan, she had one thought: Why hadn't she had it before?
"I was just like, this is ridiculous. There was no way that I should have had to travel outside of the United States to taste true chocolate," the 26-year-old said. "There is a whole other world out there of quality chocolate, and I haven't had access to it."
Livingston was born in Ghana but moved to the U.S. at the age of 3, where she says although she had strong ties to her culture, she had little connection with the actual land.
"We still had traditions that we kept at home — we spoke the language at home, we interacted with other Ghanaians — but Ghana itself was still very far," she said.
After her time studying abroad, Livingston decided to bring a true taste of Ghana to Chattanooga and started Cocoa Asante, a chocolate truffle company that uses cocoa sourced from Ghana.
Livingston has been selling her handmade truffles directly to local businesses for resale and online to customers since 2018 with the help of organizations such as Kiva.
Since starting, she has made an assortment of chocolates, from milk and dark chocolate to white chocolate and even a vegan variety.
For Livingston, making and selling Ghana-sourced chocolate is about more than just taste. It's about supporting the farmers there through equitable business practices.
Currently, she purchases already processed beans from a Swiss company that ethically sources out of Ghana, but Livingston's main goal is to go from "bean to bar," buying beans directly from farms and processing them herself before making her truffles.
West Africa provides about 70% of the world's cocoa, with about 30% of that coming from Ghana. The country recently worked to set a minimum buying price for cocoa in order to better support and incentivize farmers to keep growing.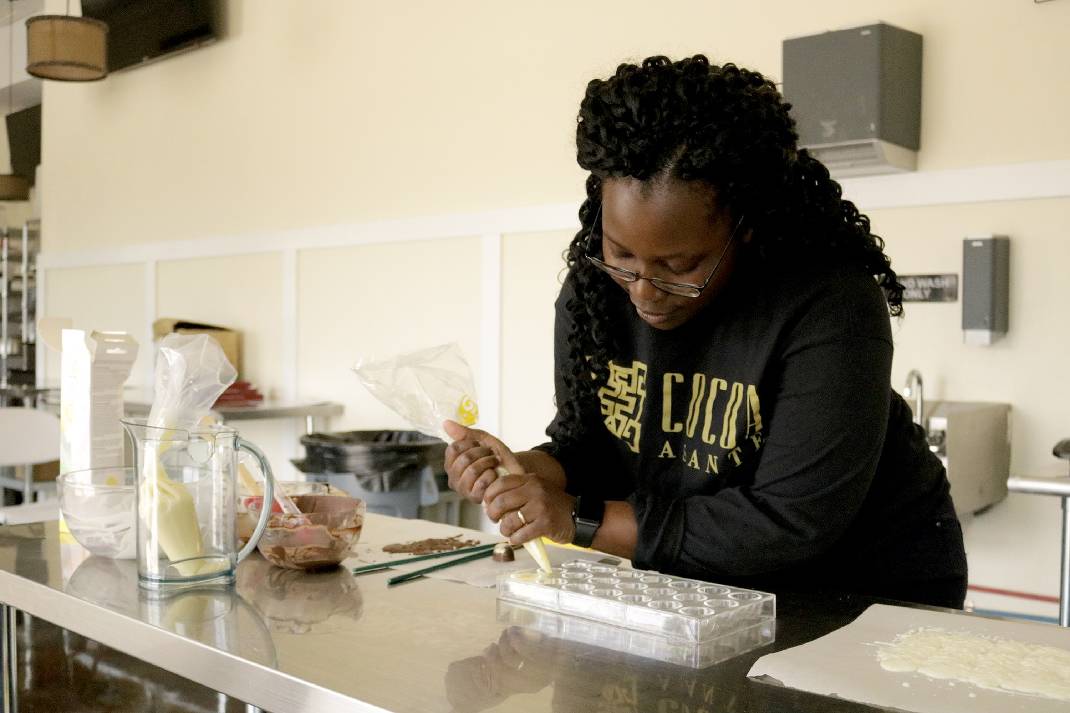 These changes have made their way down to Livingston's bottom line, but she said she is more than happy to pay a little extra.
"I don't mind at all if I'm paying more if it means it's fair for somebody else," she said. "But that's why I want to have direct control over my entire process, so that I can make sure it's fair.
"Part of it's about giving people great chocolate, a great product, but the motivation behind that is making sure that the people that make that chocolate are taken care of, and that's what we're here to do."
The name "Cocoa Asante" correlates with both sides of that mission. Livingston's roots lie in the Asante tribe in Africa, and "Cocoa," of course, comes from chocolate. The company's logo pays homage to Adinkra symbols that mean excellence or high quality.
Feeding a passion
A passion for making sure others are treated fairly bleeds over into Livingston's day job as a math teacher currently at Ooltewah High School. She hopes to help not only farmers in Ghana, but also students and others achieve and overcome obstacles.
She entered the field through Project Inspire, a residency program that trains budding teachers in high-need local schools.
"I want to make sure that whatever I do in this life leaves some sort of impact," she said. "When I became a teacher, it was to address issues of equity in education to make sure that no matter what situation you grew up in you had a fair shot at a good education and high-quality teachers. … It's that same motivation that drove me to go into becoming a chocolatier."
Cocoa Asante is looking to hire an assistant for some part-time help. "This would be someone who would be here for a while and is willing to grow with the company," Livingston said.