A 45-year-old cocoa farmer, Bismark Fuachie, has been adjudged Ghana's 2022 National Best Cocoa Farmer.
Fuachie becomes the youngest cocoa farmer, in recent times, to win the coveted award. He was unveiled at a ceremony to commemorate the annual Farmers Day celebration at Koforidua, the capital of Ghana's Eastern Region.
The feat is deemed significant and a great motivation for the youth considering that the average age of a Ghanaian cocoa farmer is 55 years.
The recognition is hoped to encourage the youth to take up employment in agriculture, particularly cocoa production, which remains a significant backbone of the West African nation's economy.
Bismark Fuachie hails from Sefwi Asafo in the Western North Region, an area which was for a long time the hub of Ghana's cocoa production but currently reeling under massive devastation of the Cocoa Swollen Shoot Virus Disease (CSSVD).
Fuachie owns an 88-hectare cocoa farm in the Boako Cocoa District of the Western North Region with an average production output of 3,258.89kg per hectare.
For his prize, the 2022 national best cocoa farmer received a brand-new pickup truck, a motorised pruner cum slasher and assorted cocoa products.
Receiving his prizes, Bismark Fuachie, expressed gratitude for the national recognition and said it was a dream come true after many years of hard work cultivating cocoa and producing other food crops and livestock.
He added that he will continue to farm as long as he has strength and will also invite the youth to pursue farming and agribusiness.
Similar prize items were presented to the other two national-level best cocoa farmer award winners.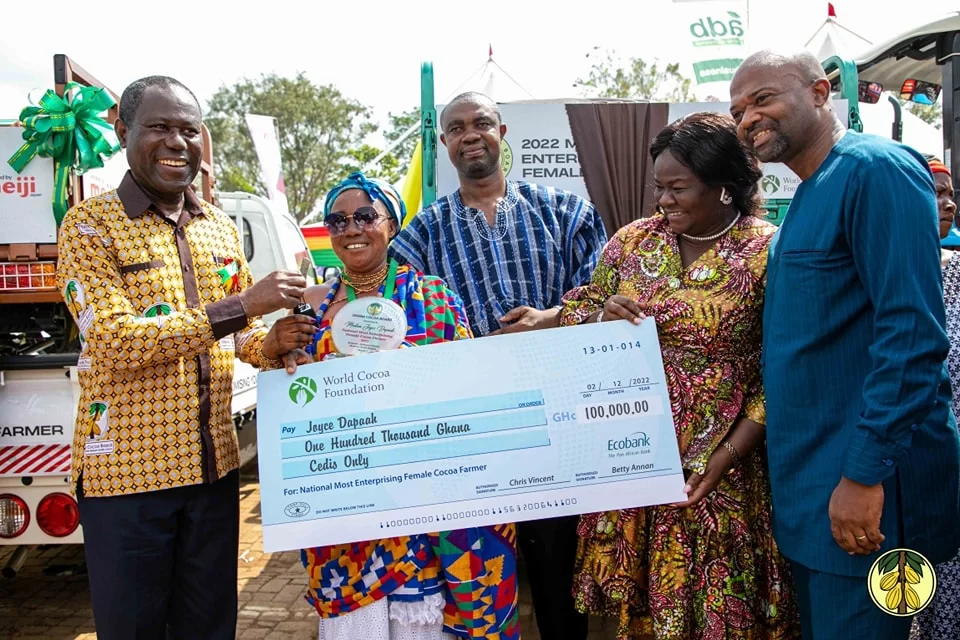 They are Joyce Dapaah, who emerged as emerged the 2022 National Most Enterprising Female Cocoa Farmer and Peter Paintsil, the 2022 National Most Promising Young Cocoa Farmer.
Joyce Dapaah, 54, owns a 28.76-hectare hybrid cocoa farm at Asaman in the Ainyinase District of the Western South Region and took home a single cabin mini truck, a tricycle, assorted cocoa products and a motorised pruner cum slasher.
She also received a cash prize of GHS100,000 from the World Cocoa Foundation (WCF), an international membership organisation of chocolate manufacturers and other cocoa value chain actors.
A dummy cheque for the prize was presented to her by the Chief Executive of Ghana Cocoa Board (Cocobod), Joseph Boahen Aidoo, alongside Dr Betty Annan, the WCF Ghana Country Director and Mr Alex Assanvo, the Executive Secretary of Cote d'Ivoire-Ghana Cocoa Initiative (CIGCI).
The 2022 National Most Promising Young Cocoa Farmer award recipient, 39-year-old Peter Paintsil also received a single cabin mini truck, a tricycle, a motorised pruner cum slasher and assorted cocoa products.
Paintsil is the proud owner of four (4) cocoa farms all totalling 18.80 hectares in size and located at Atwereboanda in the Tarkwa District of the Western South Region.
In a Farmers Day message, the Chief Executive of Cocobod, Joseph Boahen Aidoo, commended farmers for remaining relentless and dedicated to all of the Government's efforts and interventions aimed at improving the agricultural sector.
"It is therefore with much pride that we at COCOBOD pay a glowing tribute to our cocoa farmers, coffee growers and Sheanut pickers and wish to extol them for their resilience, commitment and diligence towards the production of these crops," he said.
Mr Aidoo assured that work is ongoing to sustain the cocoa industry and to improve the lot of producers of other mandate crops of the Board, including coffee, shea and cashew.
He added, "A lot of work, led by scientists of the Cocoa Research Institute of Ghana (CRIG) and other divisions/subsidiaries of COCOBOD, has been going on in the background to help improve the production and marketing of these products which have become very important commodities for the country."
Latest posts by Kojo Hayford
(see all)