Ghana is known globally for her gold, the Black Star and cocoa, which the legendary Tetteh Quarshie brought from the island of Fernando Po (now Bioko, Equatorial Guinea) in 1878.
Although not native to the country, Ghana has for over a century carved a respectable reputation worldwide as the producer of the finest quality cocoa beans.
The country is only second to its neighbour, Ivory Coast, in the production of cocoa beans with the two West African nations accounting for more than 65 percent of annual global output.
Now, apart from cocoa beans, Ghana is fast gaining popularity globally for some of the finest quality chocolate brands made exclusively with the premium Ghana cocoa beans.
Here are a few cocoa origin chocolate brands made in Ghana that you must treat yourself and loved ones to in keeping with the spirit of chocolate – Love – while also savouring the awesome nutritional benefits of cocoa:
De'Laugh Chocolates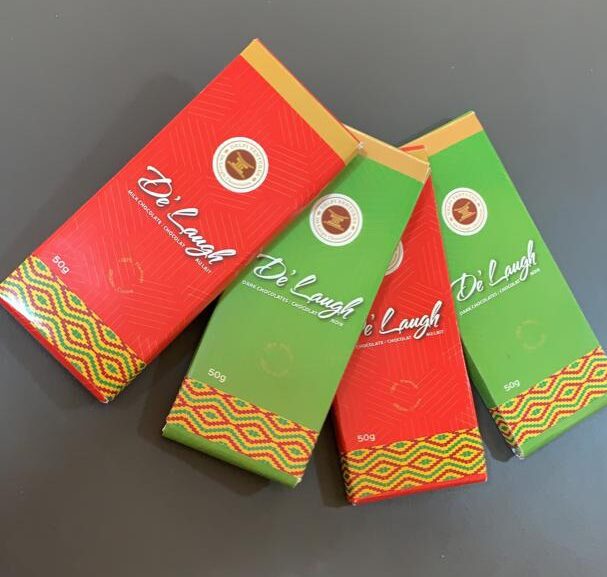 Ida Dela Kuekey Austine is a co-founder and Technical Director of Delfi Ventures, manufacturers of De'Laugh Chocolates. She belongs to the third generation of a cocoa growing family in Ghana. Dela didn't only inherit the family business of producing raw cocoa beans for sale, but acquired education (BSc. Biochemistry and MPhil. food science) "so I can come out and add value to my family's farm produce", she told Cocoa Post.
Dela took up appointments in Ghana's chocolate industry, and for 13 years worked on several research projects that resulted in developing and launching new products including GoldenTree Aspire Sugar-Free Chocolate and later became the key person to kickstart the artisanal chocolate industry in Ghana.
Delfi Ventures, which Dela co-founded with her mother, Felicia Kuekey, in 2011 has on its chocolate product range De'Laugh Milk, Dark, Sugar-free, Vegan and Truffles. Even more exciting in their product offering is what's arguably Ghana's first private Cocoa Museum and Chocolate Factory open to the public on holidays. But due to COVID19 visitors are required to make prior bookings.
Sales outlets for De'Laugh Chocolates can be located at Delfi Ventures factory at Sakaman Junction Bus Stop, Rhema's Couture and East Legon Boundary Road in Accra.
Contact: +233-50-7418800
Email : [email protected]
Website: www.delfiventuresgh.com
Kabi Chocolates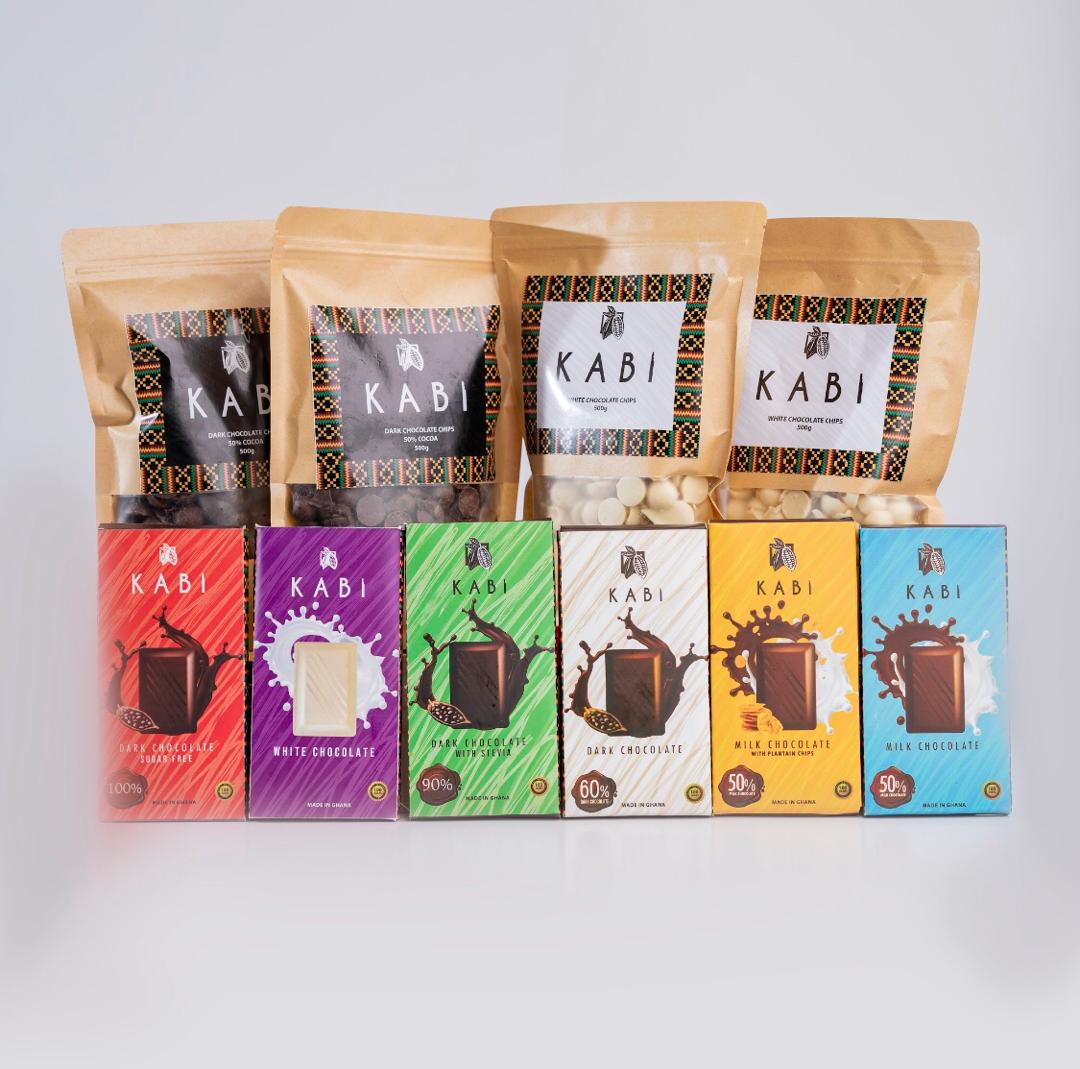 Kabi means 'take a bite' in Twi, a widely spoken Ghanaian language. Our brand name portrays how chocolate is consumed in the Ghanaian culture. Chocolate is usually shared amongst people.
The brand has a wide range of flavours including Dark chocolate, Milk chocolate, Milk chocolate with plantain chips, White chocolate, baking chocolate, as well as customized chocolates.
Kabi chocolates is based in Accra, Ashongman Estate, and products are stocked at MiG Mart, Wild Gecko and AnE Supermarket all in Ghana's capital Accra.
Contact: +233-24-3827724
Email : [email protected]
Website: www.decokraftgh.com
Chocoluv Chocolates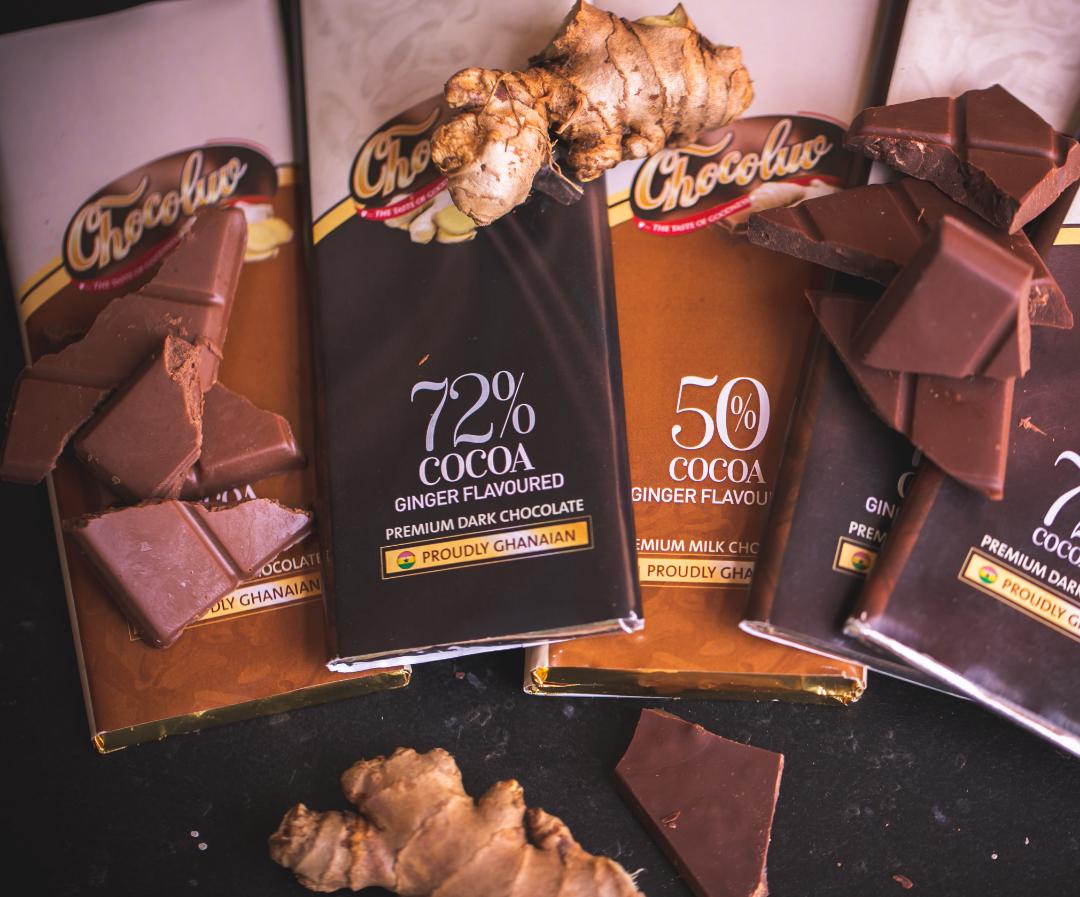 Chocoluv, is a manufacturer of premium artisanal mouthwatering chocolates and related products. Chocoluv was born out of our passion for quality chocolates. Chocoluv uses Ghana's rich cocoa in her production. The Chocoluv nuggets of milk, white and dark chocolates draw their exquisite flavour and taste from the long and rich history of the finest possible cocoa beans and blends from Ghana!
Each nugget is uniquely molded using quality ingredients with the highest possible quality standards. Chocoluv chocolates are guaranteed to bring you joy and to express "luv".
Chocoluv can be enjoyed in Vanilla, Dark chocolates, Coffee with 50% or 72% cocoa, Ginger with 50% or 72% cocoa, Dark Nibs and Milk Orange flavours. Chocoluv offers delivery service, but when you are in town you may pick your favourite flavours on the 1st Floor – Ranna Plaza, Spintex Road in Accra.
Contact: +233-20-0607607
Email : [email protected]
Website: www.choco-luv.com 
57 Chocolate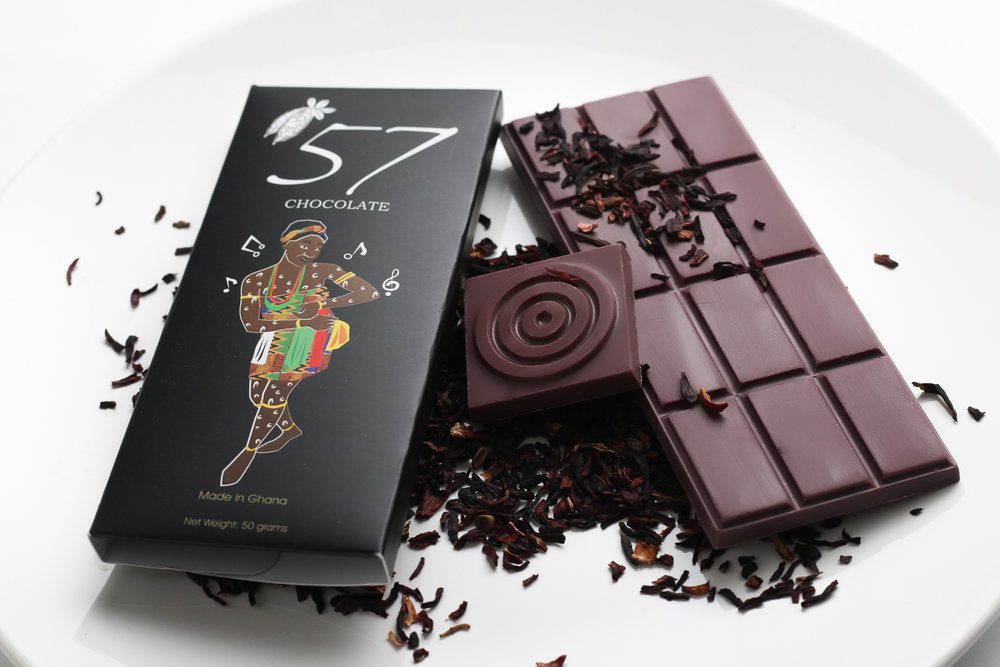 '57 is the pioneer bean to bar chocolate business in Ghana defined by creativity and authenticity. '57 Chocolate is short for 1957, the year of Ghana's independence. This venture uses resources grown within the country to create delicious treats. '57 hones in on Ghana's Independence Day spirit and challenges the status quo that premium chocolate can only be made in Europe.
 At '57 we take dried cocoa beans and process them into luxurious chocolate and confections. Using our creative skills and imagination, we make products that are a reflection and celebration of African art and culture.
'57's mission is to revive the 1957 "can-do spirit" by adding value to the cocoa bean and cocoa farmer— on a local scale. Our passion is to inspire the people of Ghana, especially the youth to not be satisfied at merely selling and trading the country's natural resources or other items in their "natural" state, but to use their minds and creative geniuses to transform these resources by creating and manufacturing made in Ghana products of premium value.
'57 is about patriotism and empowering the youth to create something of their own. We aspire to bring manufacturing back to Ghana. 
Contact: +233 50-4736539
Email : [email protected]
Website: www.57chocolategh.com
Bioko Treats Chocolate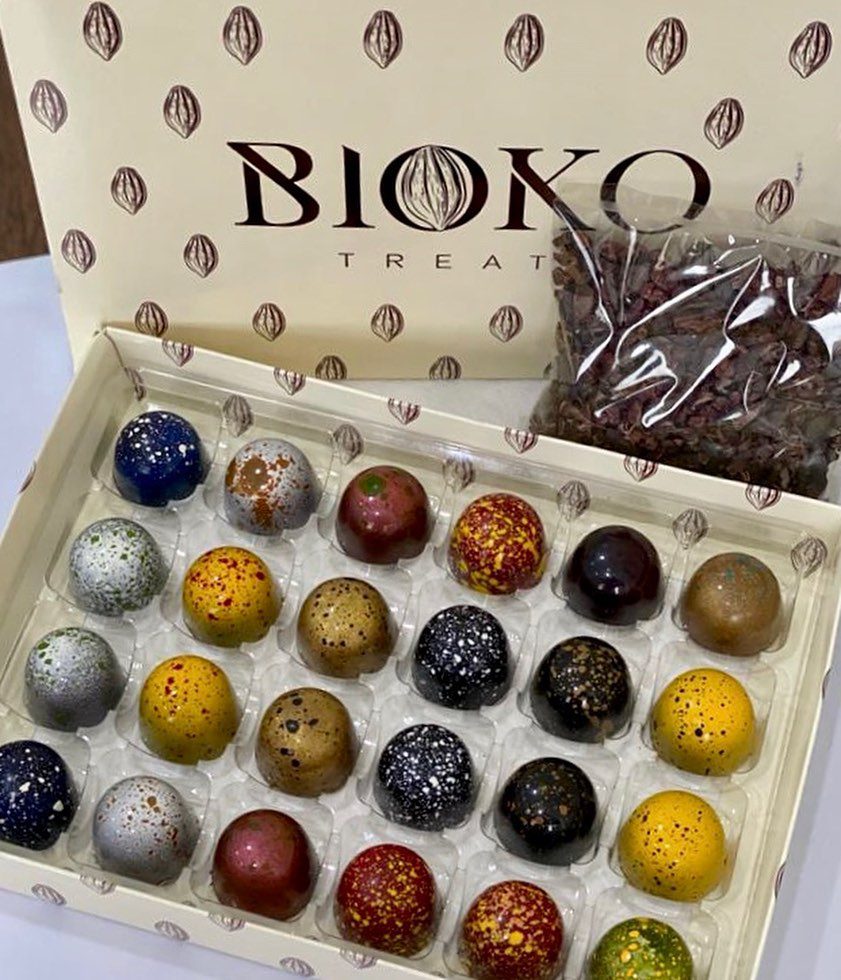 Chocolate is our Akɔnɔdiɛ: Our Desire and our Obsession.
Akɔnɔdiɛ means desirable and connotes sweetness – describing perfectly Bioko's desire to bring sweet delicacies to its customers.
Located in Ghana, home of some of the best cocoa in the world, Bioko is dedicated to crafting gorgeous and delightful chocolate using Ghana's famed Forastero cocoa infused with mostly local ingredients.
We work with some of Ghana's best chocolate makers to produce our milk chocolate desirables. Our dark chocolate desirables start their journey when we select the healthiest cocoa pods from the farm, ferment and dry the beans to ensure your desirable dark chocolate meets Bioko's incomparable standards.
Bioko's chocolates are carefully and lovingly hand made in small batches, with the aim of bringing to our customers, desirable, affordable chocolates with an unmatchable personal touch.
Contact: +233-55-8839322
Email : [email protected]
Website: www.biokotreats.com
fairafric Organic Chocolates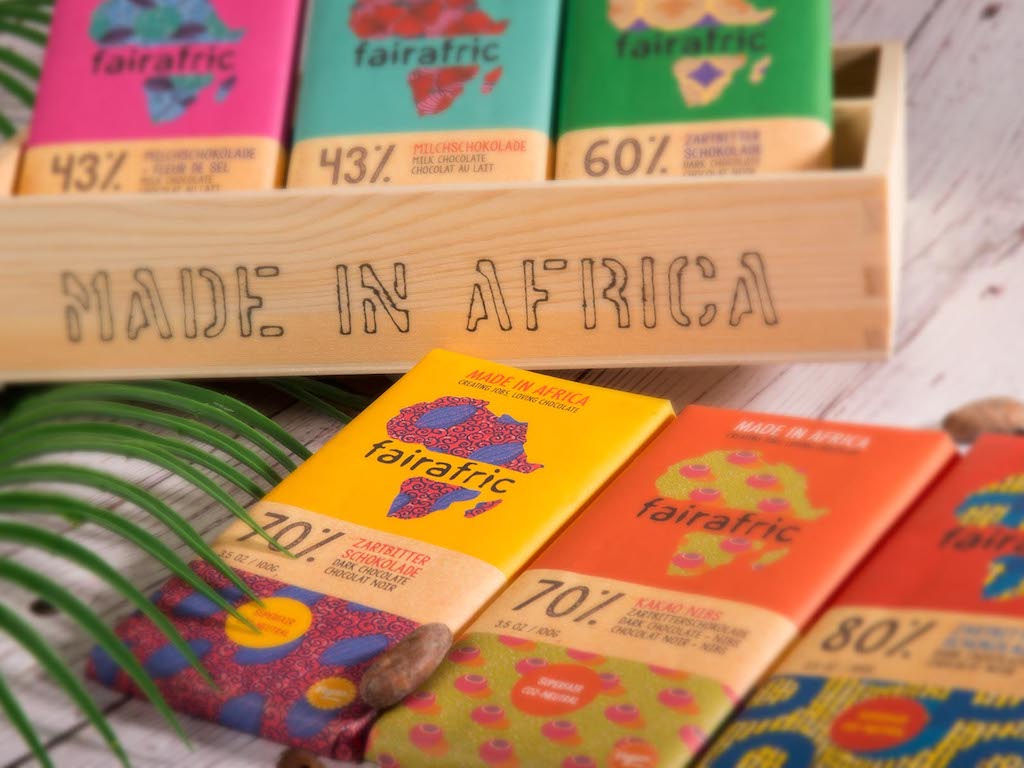 We are fairafric – a German-Ghanaian social business that is revolutionizing the chocolate world. Africa's raw materials have always been used primarily for the production of goods in the Global North. That is why it is important to us to go one step further, to process raw materials locally and to transfer the added value as far as possible to Africa.
In order to achieve this goal, we produce world-class chocolate in Ghana – from tree to bar. In doing so, we create jobs outside agriculture and multiply local income in the country of cocoa origin. With every purchase of fairafric you help to create qualified jobs in Africa, which in turn lead to higher income, better access to higher education and health care. No development aid, but a real opportunity. Be a part of it!
Our factory is sited in the cocoa growing community of Suhum, in the Eastern Region of Ghana. In our product range are Vegan Dark chocolate, 8 bars of mixed variety, 8 bars of single variety, and bars with fleur de sel, milk or nuts.
Contact: +49 89 9974377 20
Email : [email protected]
Website: www.fairafric.com
Adansi Bar Chocolates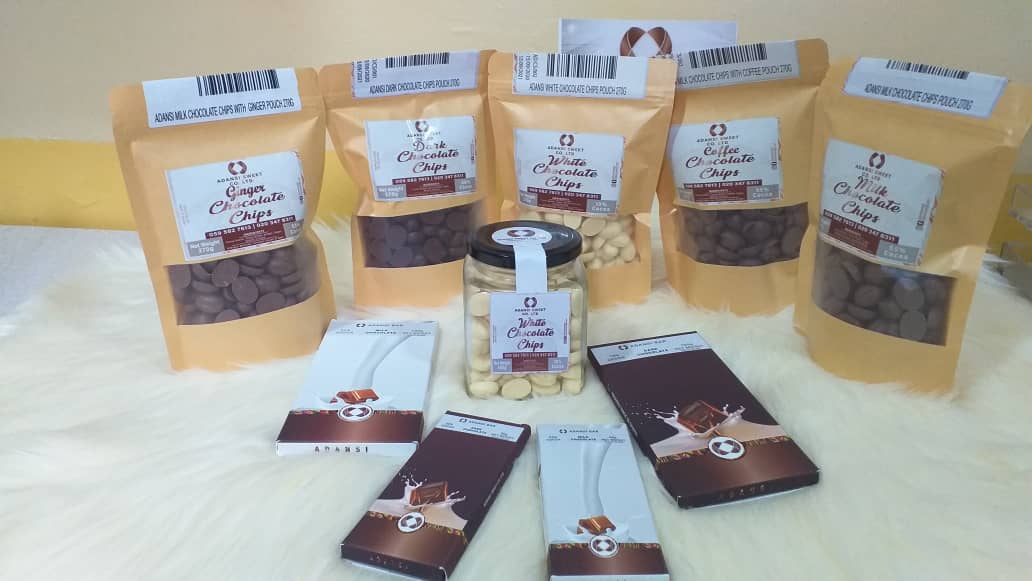 Adansi Sweet Company Ltd in Kumasi Ashanti Region, Ghana was founded in May 2019 to offer natural well-being fine cocoa (Chocolate) all from the Adansi plantations. We are a Ghanaian based bean-to-bar chocolate maker. Our company is involved in the manufacturing of chocolates & other cocoa products.
We are committed to the art of premium chocolate making from the cocoa bean. We will continue to source only the very best ingredients, including premium cocoa beans, and use artisan skills combined with specialised chocolate making techniques to create award-winning chocolates.
Count on us to customise our special chocolates of various flavours for your weddings, christening, birthdays, gifts, parties, funerals, anniversaries, and other social and corporate events.
Contact: +233-54-5251766
Email : [email protected]
Website: www.adansisweetgh.com
Latest posts by Kojo Hayford
(see all)