As part of efforts to help increase farm profitability and ensure that the root cause of poverty is addressed for cocoa farmers in Ghana, Macquarie University Sydney, The Open University, UK, and the University of Wollongong and coordinated by Be Slavery Free and supported by a global coalition of NGOs including Green America, INKOTA, Mighty Earth, EcoCare Ghana, and the National Wildlife Federation, launched the fourth edition of the Chocolate Scorecard here in Accra, Ghana to discuss their findings on Traceability, Transparency, Child Labor, Living Income, Deforestation and Climate, Agroforestry, and Chemical Management in the cocoa sector.
The research findings came at a time when farmers believe good pricing is the engine to sustaining the cocoa sector in Ghana.
The 2023 Chocolate scorecard ranked companies in the cocoa-chocolate value chain on their efforts to address challenges in the sector in Ghana.
Objective
Speaking at the 2023 report launch of the scorecard ranks, EcoCare Ghana Managing Campaigner, Obed Owusu-Addai said cocoa farmers over the years have been deprived of good pricing of the beans which demoralizes them and affects their livelihood.
He believes that cocoa farmers have not been aggressive and angry enough at international chocolate companies, regulators and other relevant agencies in the sector to demand their fair share of the commodity they produce.
"It's time for them to send a strong message to the international buyers, regulator and other stakeholders in the cocoa sector and must not continue to sit aloof for their rights to be trumped upon.
"How can the farmer who produces the commodity that generated about 110 billion in 2021 still receive less than 10% of the value of that commodity? he quizzed.
Target
This year's scorecard ranked 83 of the largest chocolate companies, retailers, and processes on their performance in six sustainability categories namely Traceability Transparency, Child Labor, Living Income, Deforestation and Climate, Agroforestry, and Chemical Management in the cocoa sector.
The survey found that some are rising to the challenge, but others continue to ignore consumer demand for chocolate that's free of child labour, poverty, and deforestation and chocolate that's good for people and the planet.
The scores indicated that Original Beans and Tony's Chocolonely were ranked as the most sustainable chocolate companies followed by Beyond Good whiles General Mills and Walmart received the rotten egg award out of the 83 chocolate brands, retailers and processors.
Interlink cages
Senior Director at Mighty Earth, Julian Oram explained that the purpose of the scorecard is to look at how countries are addressing issues around the six criteria through their policies and practices including their purchasing practices.
"We eat chocolate for comfort, celebration, and indulgence; but what's going into the chocolate we buy? That's why the Chocolate Scorecard has surveyed the world's biggest chocolate companies to find out how they are addressing key challenges in the cocoa-chocolate value chain.
"Companies were assessed on their performance in six sustainability categories namely Traceability Transparency, Child Labor, Living Income, Deforestation and Climate, Agroforestry, and Chemical Management in the cocoa sector.
"Most brands, retailers and processors measured mostly don't want to be ranked below their competitors, hence updated their policies and processes to meet up with the six sustainability categories.
"It was also found that only 11% of chocolate companies surveyed can fully trace where their cocoa comes from; on average 40% of cocoa is purchased indirectly, meaning the buyer doesn't know who they bought from or where it came from and without knowing where your cocoa comes from you can't possibly claim it is sustainable," he said.
Senior Advisor at Mighty Earth, Samuel Mawutor explained that the 2023 Chocolate Scorecard findings revealed that the sustainability claims of chocolate companies cannot necessarily be trusted.
"Sustainability claims made by companies are defined narrowly to refer only to their programs, which may foster sustainable practices but do not refer to the actual status of their cocoa or necessarily improve the actual living conditions of cocoa farmers.
It was found that cocoa farmers taking part in sustainability programmes are often not well compensated for their efforts and remain extremely poor.
"A recent report by Oxfam claims that the net income of farmers decreased by an estimated 16.38% between the 2019/20 and 2021/22 harvesting season.
"When the price of cocoa increases everything else a farmer purchases increase in price, leaving them worse off in reality; however, this doesn't affect chocolate companies in the same way but rather led to increases in their profits.
The global chocolate market was valued at a revenue of USD 131.9 million in 2021. It is projected to grow at 4.50% annually" he said.
Technical Manager of Cote D'lvoire Ghana Cocoa Initiative, Tawiah Agyarko-Kwarteng in an interview with this reporter stated that, although the Living Income Differential (LID) dialogue started months ago, farmers are still not benefiting enough from their produce.
She stated further that the Côte d'Ivoire Ghana Cocoa Initiative has been focused on representing the two countries to engage in collaborative discussion for the betterment of the farmer.
"Volatile pricing has been a problem for the cocoa sector which is not allowing the farmers to get the true benefits that they should be getting for all their efforts.
"We have actively engaged over the past few months with partners in the industry to ensure that we kick-start conversations on the actions that we all need to take to help our farmers get better prices.
"I believe that active collaboration is needed at all levels to help farmers gain what is required of them and ensure that we all are driving actions that deliver impact for the farmer," she said.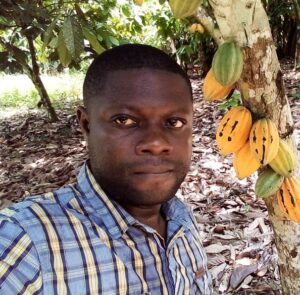 Latest posts by Nana Yaw Reuben Jr.
(see all)