Innovation indeed has no limit. And the cocoa industry seems to be proving that each passing day. From the chocolate bar up to the recent cocoa pulp juice becoming a healthier substitute to sugar in your favourite bar.
Now, what about Chocolate wrapped in chocolate? Unbelievable, yet that's an exciting new breakthrough in the industry from the camp of United Kingdom's paper manufacturer – James Cropper.
Cocoa paper, Chocolate paper, or however you want to call it, James Cropper has successfully recycled cocoa bean shells into paper.
By this feat shells from the approximately 4 million tonnes of cocoa beans produced annually can be transformed into paper for use as chocolate wrappers and other paper packaging material in and outside the chocolate industry.
"The cocoa shell represents around 12% of the fruit itself, making the production of a versatile paper from the remnants of the chocolate production process a potentially significant breakthrough for the food and packaging industries", according to a statement obtained from James Cropper's website.
According to the 168-year-old family-run paper mill, a bio-recycling solution that, unlike other cocoa recycling processes, doesn't necessitate burning or gradual degrading of the fibres of the cocoa shell, the finished light brown paper utilises the cocoa as a natural colourant, avoiding the need for artificial dyes.
James Cropper's 2013 cocoa paper innovation is said to have been inspired by global chocolate giant, Barry Callebaut, which asked for a review of its packaging as part of new ways to enhancing their environmental responsibility and waste recovery processes.
Being tasked to create a new paper product is always exciting for our product development team, who work closely with our clients to ensure they get the packaging solution they require. Creating paper from cocoa husks, and achieving food industry certification for its use in packaging edible products of all kinds, is a great achievement and is another example of James Cropper developing industry-leading solutions for even more sustainable methods of paper production", said Mark Cropper, Chairman of James Cropper.
The company's innovation, which has successfully lifted the global cocoa sustainability agenda notches higher, has also been certified for use in the food supply chain.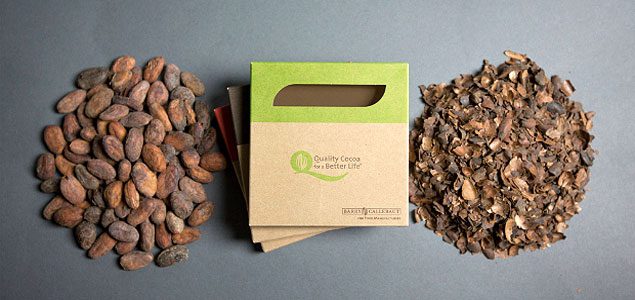 "The production of a brand new paper that repurposes the primary waste material of the cocoa and chocolate industry reflects how far we can push the capabilities of our state-of-the-art mill, our expertise and paper itself. The result is a beautifully simple product that is entirely appropriate for its intended use; perhaps providing a starting point for other industries to consider how their waste materials could be better reused rather than disposed of", Phil Wild, CEO of James Cropper plc added.
It said the finished product, predominantly made up of unbleached cellulose fibre from sustainable crops, features a 10% cocoa shell content.
Latest posts by Kojo Hayford
(see all)