Construction Begins on New Barry Callebaut Chocolate Factory in India
The Barry Callebaut Group has delivered groundbreaking for construction of a new chocolate and compound manufacturing facility in Baramati, serving the fast-growing Indian confectionery market and global food groups.
Located around 250km km south-east of Mumbai, once complete, the site will include advanced assembly lines capable of manufacturing chocolate and compound in different delivery formats, catering for international food manufacturers, local confectioneries and semi-industrial bakers and patisseries.
The new greenfield facility in Baramati will cover a total of 20,000 m2 and is scheduled to be operational by mid-2020.
Once fully operational, it will have an annual production capacity of more than 30,000 tonnes of chocolate and compound and employ between 100-120 people, thus creating new skilled jobs, mainly in engineering and production.
Biggest investment in India yet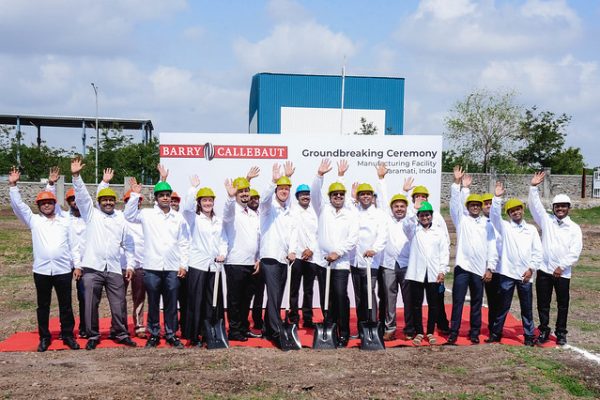 The factory in Baramati will also be equipped with an R&D lab. Furthermore, together with its existing chocolate academy centre in Mumbai, the company intends to advance its work with customers to co-create innovative chocolate for local consumers.
In addition, the company has also moved its sales operations into a new, larger office in the city.
As the company explained, India is one of the fastest growing markets for the chocolate confectionery industry. Sales volume of chocolate confectionery in the country grew 16% in 2018 (up 6.5% CAGR 2013-2018), according to Nielsen research analysts.
The chocolate confectionery market in India is expected to continue to show strong growth in the coming five years, according to Euromonitor.
The company has built its presence in India by serving food manufacturers, and established a strong network of nationwide distribution and committed channel partners over the years.
In recent months, Barry Callebaut has partnered with local chocolate manufacturers to introduce Ruby chocolate, the fourth type of chocolate after Dark, Milk and White chocolate, and also launched its locally-produced Van Houten Professional chocolate in the country.
Across Asia Pacific, the company employs more than 1,800 people in the region, operating nine other chocolate and cocoa factories in Asia, namely in China, Indonesia, Japan, Malaysia, and Singapore.
In the last 12 months, the company has also expanded its sales operations in Australia, Indonesia and the Philippines, in addition to its existing sales offices in India, Japan, Malaysia, Singapore, and Thailand.
Its second chocolate factory in Indonesia is currently being built in Rancaekek (near Bandung).
"India is an exciting market where innovation in chocolate is well received by consumers. As an innovation leader, we are proud to bring our innovative capabilities into a market where domestic chocolate production is increasing. We have experienced double-digit growth in India over the last three years. Our confidence in the future development of the chocolate market in India, together with the desire to better serve our customers in India, has prompted the expansion of our footprint and services," said Dhruva Jyoti Sanyal, managing director for Barry Callebaut India.