Ghana to Boost Cocoa Production and Processing with $600m AfDB Facility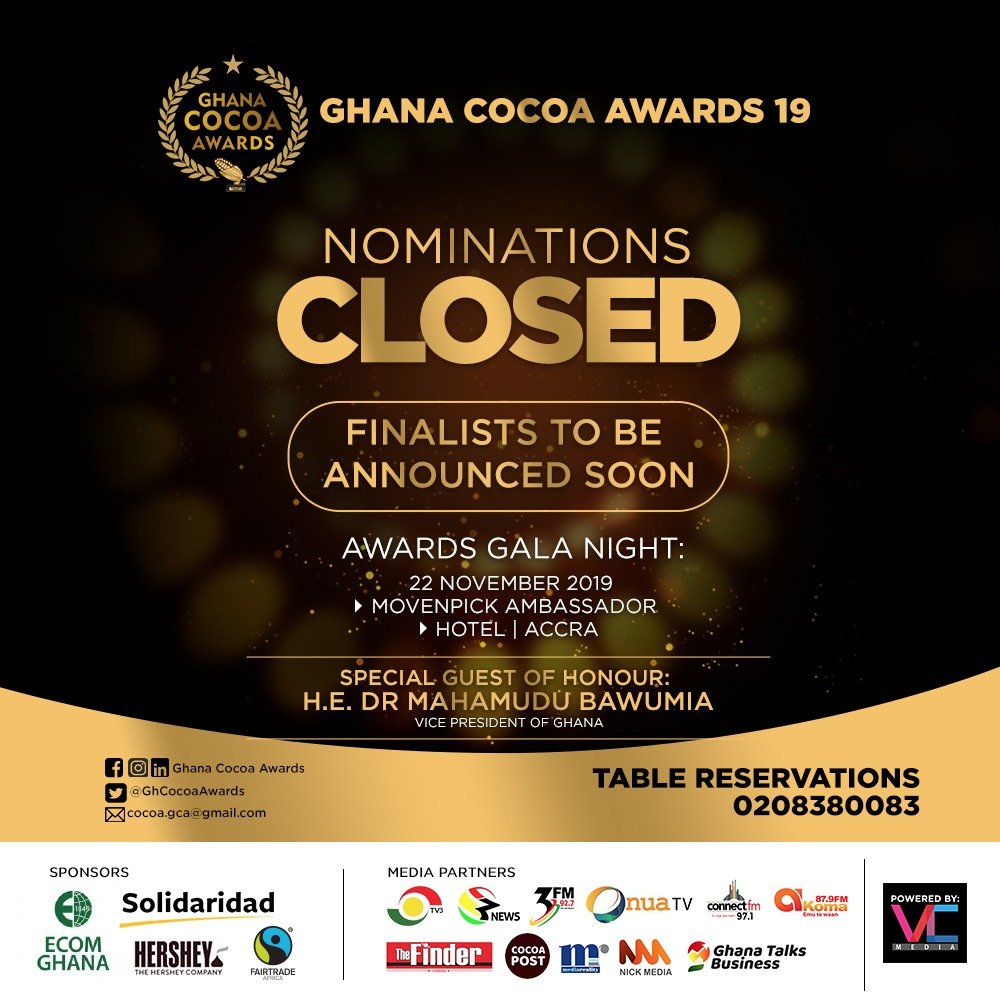 The government has announced plans to inject US$600 million into the cocoa sector.
The funds, being sourced from the African Development Bank (AfDB) will finance various initiatives such as mass cocoa spraying exercises, agronomic support and input subsidies for farmers to help increase production.
The President Akufo-Addo administration is acting through Cocobod for the stimulus package through a Cocoa Productivity Enhancement Programme, which will among other things step up Ghana's production to 1.5million tonnes by 2027.
The stimulus will target rehabilitation of plantations, improvement in storage and domestic processing, stimulation of local consumption as well as efforts to increase output on farms among others and spans a 7-year period.
This is one of the major fallouts from a Cabinet Retreat which took place at Peduase near Aburi in the Eastern Region from Thursday [October 31, 2019] to Sunday, November 3, 2019.
It was the 64th regular Cabinet Meeting of the Akufo-Addo administration and 9th retreat of the present Cabinet, which focused on the preparation of the 2020 budget.
The Minister of Information, Mr Kojo Oppong Nkrumah, made this known at a press briefing Sunday afternoon at Peduase.
The stimulus package is a capital investment over a 7-year period aimed at increasing cocoa production separate from the annual syndication loan.
About US$330 million of the funds will go directly to support cocoa farmers whilst $200 million would be used to support the processing of cocoa beans locally in Ghana before export.
It is the plan of President Nana Addo Dankwa Akufo-Addo to ensure that about 50 per cent of cocoa beans are processed locally before export.
"The Administration believes that Cocoa, being a major pillar of our economy cannot be allowed to survive at its own pace. Cocoa farmers who have been the backbone of the Ghanaian economy already have good news for 2020 in cocoa price structure but now get an additional dose through this stimulus package," Mr Oppong Nkrumah said at the press briefing.
Explaining the stimulus package, the Chief Executive Officer of the Ghana Cocoa Board, Mr Joseph Boahen Aidoo said the move was an initiative by President Akufo-Addo who together with the Ivorian President, Alasane Ouattara, approached the African Development Bank (AfDB) for the facility, since Ivory Coast is also sourcing $600 million.
He said Cabinet has since approved the facility and awaiting Parliamentary approval for Ghana to go ahead and source the funds.
He mentioned that the storage facilities [warehouses] would mainly be located at Sefwi Awaso, in the Western North Region.