Ghana's former President Flt. Lt. Jerry John Rawlings has commended the Ghana Cocoa Board (COCOBOD) for the introduction of motorized slashers and pruners for effective control of weeds on cocoa farms as well as the removal of excess branches and mistletoes on cocoa trees.
Interacting with a delegation from COCOBOD led by the Executive Director of the Cocoa Health & Extension Division – CHED, Dr. Emmanuel Nii Tackie Otoo at his residence at Ridge, Mr. Rawlings, disclosed that he recently watched a news item on the launch of the pruners and slashers and was impressed at the initiative by COCOBOD to help farmers do cocoa farming with less manpower.
'..as I watched how the machine operates in the news, I was intrigued at the extent the supporting bar could go to cut stems at higher points to remove branches….my invitation to you was, therefore, to enable me find out more about this novelty',  he expressed.
The former President, who could not hide his amazement at the technology, described the process he watched as a beauty, simple, demystified and less laborious.
Explaining the rationale behind the introduction of the slashers, Dr. Emmanuel Nii Tackie indicated that farmers wrongly use weedicides oblivious of their far-reaching ramification on the soil and the ecosystem and added that the machines were the best alternatives with dual functions; for weeding and pruning.
'Management of COCOBOD decided to engage experts to design environmentally friendly technology to provide an alternative way of controlling weeds to preserve the quality of our cocoa', he explained.   
Dr. Nii Tackie used the opportunity to explain pruning as an exercise that helps to ensure adequate shade for photosynthesis.
He again said when pruning is done properly, there is free circulation of air in the farm, and the incidence of pests and diseases is reduced thereby creating the enabling environment for massive pod development and increased yield.
He described pruning as very critical to the Hand Pollination Programme which helps to induce more flowers for the pollination exercise.
Later, during a demonstration of how the machines operate, Mr. Rawlings, after trying his hands on the slashers described the machines as solid and good for the purposes.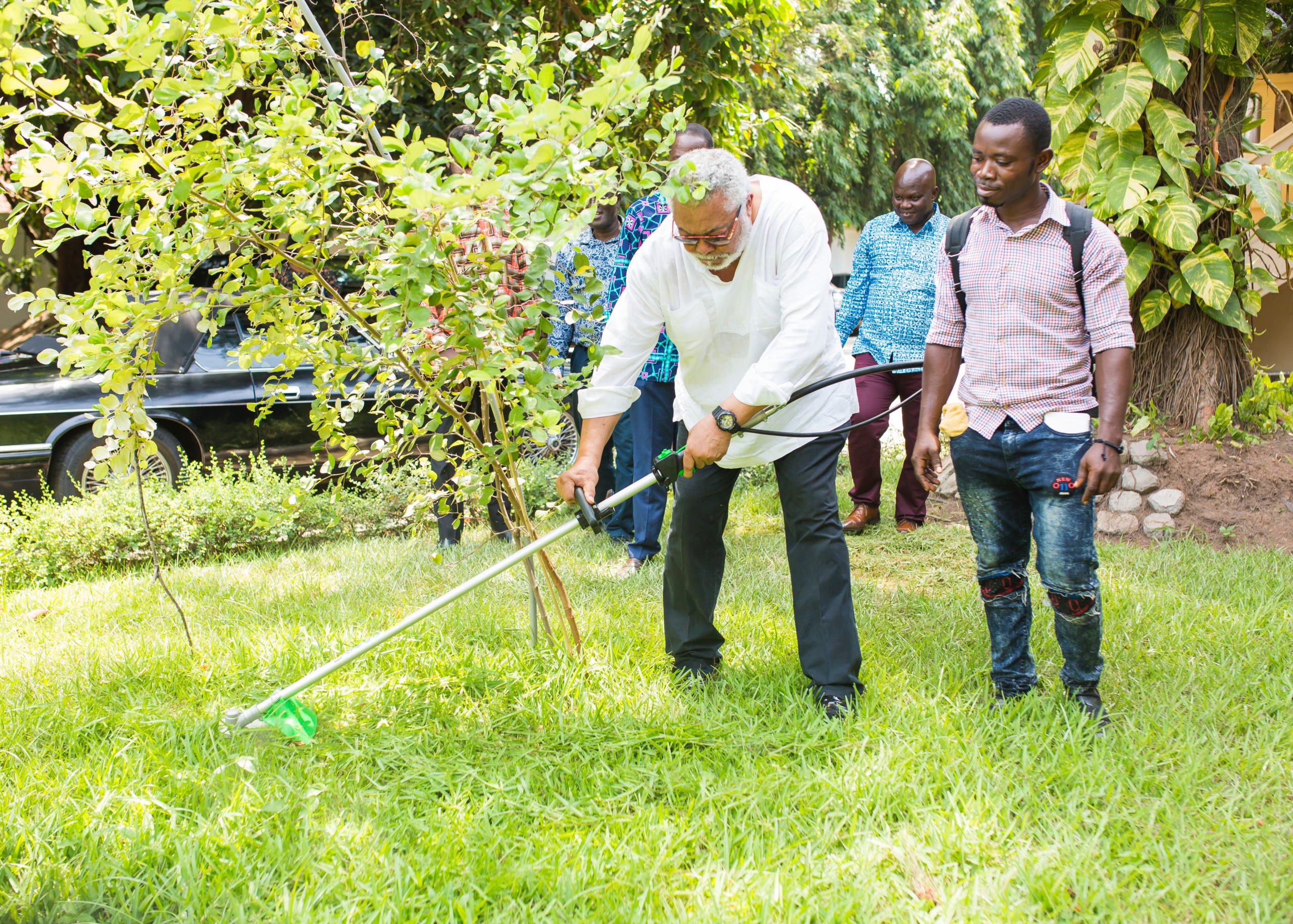 He, however, advised COCOBOD to do more to promote organic fertilizer in cocoa farming.
Meanwhile, COCOBOD recently took delivery of some 100,000 pieces of these motorized pruners and slashers for distribution to cocoa farmers across the country through various farmer cooperatives.
The initiative is part of the Board's efforts at making cocoa farming attractive to the youth.