Three Mountains Cocoa: From Ghanaian Fields to Sustainable Chocolate Globally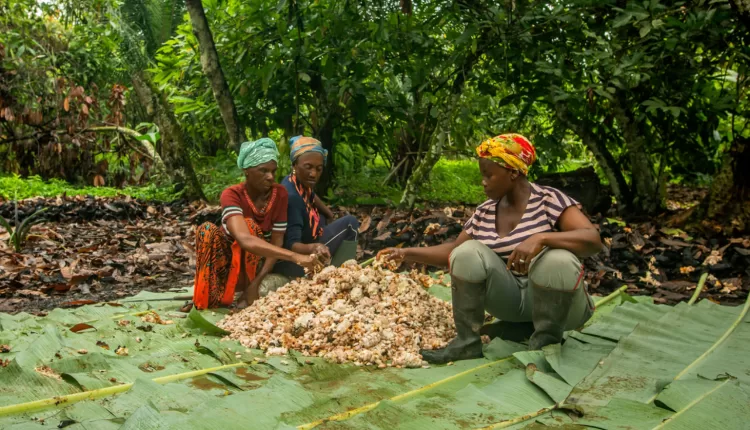 (C) THREE MOUNTAINS COCOA
Three Mountains Cocoa (TMC), an organic cocoa-sourcing startup, has announced the launch of its global operations.
This marks a significant milestone in the TMC's journey to bring the finest African cocoa to chocolatiers and pharmaceutical companies worldwide.
Three Mountains Cocoa says it already has a stock of organic cocoa beans available in Europe, the USA, GCC regions and Japan, and is poised for shipment to the four corners of the globe.
With a capacity of 500-700 metric tons of cocoa available for the 2023 season, TMC assured it is ever ready to meet commercial and industrial orders.
The prides itself on a business model that prioritises farmers' welfare, the environment, and the communities they serve.
According to the firm, "What truly sets Three Mountains Cocoa apart is our unwavering commitment to the farmers who are the heart and soul of our enterprise."
"We go beyond labels; every farm supplying cocoa to Three Mountains Cocoa is meticulously mapped, and we hold detailed information about each farmer – we know these communities from their roots up."
TMC said every cocoa bean it sources is certified organic, and we proudly collaborate with Rainforest Alliance and Fairtrade to ensure that these certifications are met for all our beans.
As a premium organic cocoa brand, we combine a socially responsible business model with high-quality natural ingredients to showcase our commitment to sustainable farming and environmental stewardship.
The driving force behind Three Mountains Cocoa is its Founder and CEO, Leslie Agyare.
Agyare has over two decades of experience in the food industry and has dedicated the past four years to a passionate mission – sourcing the best organic cocoa in Ghana, a journey he describes as mirroring the labour of love shared by the countless farmers who make it all possible.
"I'd like to thank all the people who made this possible," said Agyare, acknowledging "The farmers, the consultants, and the team behind Three Mountains for their invaluable assistance in bringing this vision to life. Without such a great team, it would have been impossible."
He emphasised that the collective goal is to replicate their successful business model on a global scale to ensure that the world has access to the finest cocoa money can buy.
This, he explained, goes beyond sourcing great cocoa to making a meaningful impact in communities by working hand in hand with cocoa farmers, and supporting them in every way possible.
The TMC lead noted the company actively promotes women's empowerment, extends assistance to widows seeking independence, and introduces wealth-creation initiatives that bolster the cocoa-based income of these communities.
We are proud to announce that we directly pay premiums to each farmer and Cooperative Union, ensuring that their hard work is justly rewarded.
Three Mountains Cocoa said in addition to its farmer support initiatives, it directly pays premiums to partner farmers and cooperatives, as well as providing access to approved, organic farm inputs to enhance crop quality and sustainability.
The farmers also benefit from personalised farm-level advisory sessions and training services provided by the Three Mountains Cocoa Co-operative, empowering farmers with the knowledge and skills needed to excel in their craft.
TMC noted this as a testament to its dedication to assisting farmers in achieving and maintaining organic certification standards, which further solidifies its commitment to their success and the sustainability of the company's cocoa supply chain.
The organic cocoa souring startup said it welcomes partnerships from businesses looking to join them in empowering and enriching rural communities.
"We believe in reciprocity and offer our expertise to help you craft exquisite chocolate products and deliver a strong message of traceability," it said.
Latest posts by Kojo Hayford
(see all)