Ghana's President, Nana Addo Dankwa Akufo-Addo, has inspected the progress of work on the Benchema-Adjoafua road in the Western North Region.
The inspection of the road forms part of the President's itinerary for his 2-day tour of the Region.
The about 38-kilometre road is considered critical because it connects to many major cocoa-growing communities in the Region.
Explaining the progress of work on the road, the Project Engineer of Messrs Amandi Construction, David Metz, said the project was 50 percent complete amidst challenges such as poor weather, COVID19 and issues regarding payment of compensations.
He lauded the great cooperation received from Ghana Cocoa Board (COCOBOD), the Government and residents of the area and expressed optimism that the project would be completed on schedule.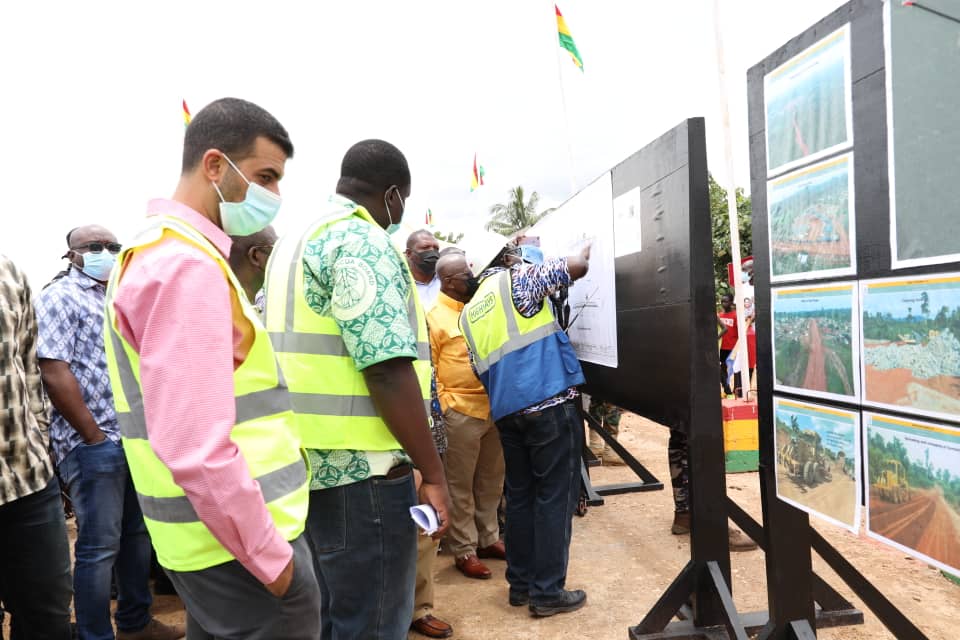 "So far, we are making progress as we promised although some challenges are being faced; we believe that we will finish this project by June 2022. We are grateful to COCOBOD and government for every support," Metz indicated.
Deputy Chief Executive of COCOBOD in charge of Operations, Dr. Emmanuel Opoku, said the road links about 14 cocoa communities which together, contribute an average of 100,000 tonnes of cocoa annually to the country's output.
Dr. Opoku further noted, the road when completed, will support economic activities and improve the livelihoods of the people living in the catchment area.
"We at COCOBOD see this road as a crucial one because large volumes of cocoa are transported on this road yearly", adding that, "we are happy it has taken shape. Before, plying this road did not come with the ease we are enjoying now – very terrible indeed," he explained.
Last year, the Vice President of the Republic of Ghana, Alhaji Dr Mahammudu Bawumia cut the sod at Elluokrom for work to begin on the road after three contractors who were awarded the project failed to deliver. The 38-km road links Ghana to Cote d'Ivoire at Oseikwadwokrom.
Afrifa, a resident of Saayerano, was happy the road was being fixed, especially a portion that always gathered water anytime it rained.
"Before the construction, because of the stagnant water, we even had to carry corpses and women in labour through this cocoa farm here (pointing to a nearby farm) amidst falling down and our clothes getting soiled with mud," Afrifa recalled.
"But look at me today, no dust, free movement, life is good here at Saayerano and we are thankful to COCOBOD for helping us," she said.
The construction of the Benchema-Adjoafua road is in fulfilment of a promise made by President Akufo-Addo in 2016 during his campaign tour of the region.
Nana Addo promised to award the Project to a competent contractor to fix it, to alleviate challenges posed by the poor nature of the road and to improve upon economic activities in the area.