As part of its efforts to help address poverty among Ghanaian cocoa farmers, their households and the communities they live in, the Cocoa Abrabopa Association (CAA) in partnership with Ritter Sport GmbH & Co KG, Fuchs & Hoffmann and Ascot Amsterdam is providing additional livelihood interventions to some farmer groups in the Western Region of Ghana.
The Association believes that farmers should not just be living, rather they should be thriving. And that for them should be the goal of the living income for farmers.
The additional livelihood interventions programme by the partners is being implemented by cocoa farmers in Akotom in the Bogoso Cocoa District, Pieso in the Prestea Cocoa District, Adum Banso in the Tarkwa Cocoa District and Nkurakan in the Ayinese Cocoa District all in the Western Region of Ghana.
The initiatives are targeting about 526 members and their households and helping them enhance their household income from cocoa and other agricultural products through living income interventions, shade trees planting, farmer land registration, supportive child labour monitoring and remediation system (CLMRS) and the farmer business school (FBS) initiatives were executed as part the interventions.
The first groups of beneficial communities received tricycles, an agrochemical shop and snail-rearing starter packs which included snails, boxes and feed as start-up for the additional livelihood intervention initiatives.
Speaking during the handing-over ceremony, the Chairman of the Cocoa Abrabopa Association, Ismaila Pomasi, identified that the root causes of poverty among cocoa farmers including the lack of social amenities, infrastructure, educational opportunities, unavailability of jobs, farm sizes and capital for investment.
"The solutions for increasing the living income are different for each household and the communities they live in, that is why we at Cocoa Abrabopa Association (CAA) are putting our all into this living income and additional livelihood intervention project as a key module of cocoa sustainability in Ghana," Pomasi emphasised.
He explained, "Different members have different needs and see different opportunities to turn the tide.  Therefore, cocoa farmers in Akotom in the Bogoso Cocoa District said they needed support to put up an Agrochemical shop in their community as a way of easy accessibility to purchasing inputs at a very affordable price, so we are doing exactly that for them."
"Cocoa farmers in Pieso in the Prestea and Adum Banso in the Tarkwa Cocoa District required a tricycle to transport their beans from the farm to their homes at a very minimal cost and stress-free. While cocoa farmers in the Nkurakan in the Ayinese Cocoa District desired knowledge in snail rearing; which we have done for them as well," he added.
According to the Chairman, CAA is helping contribute to sustainable cocoa production in Ghana and also supporting our farmers and their households in building economically viable and resilient cocoa production which will lead to sustainable improved livelihoods.
The Sustainability Manager for Cocoa Abrabopa Association, Wilfred Apiung, explained that the birth of this great module being introduced in cocoa-growing communities is allowing the CAA and its partners to get to the core of what matters most to the cocoa farmer.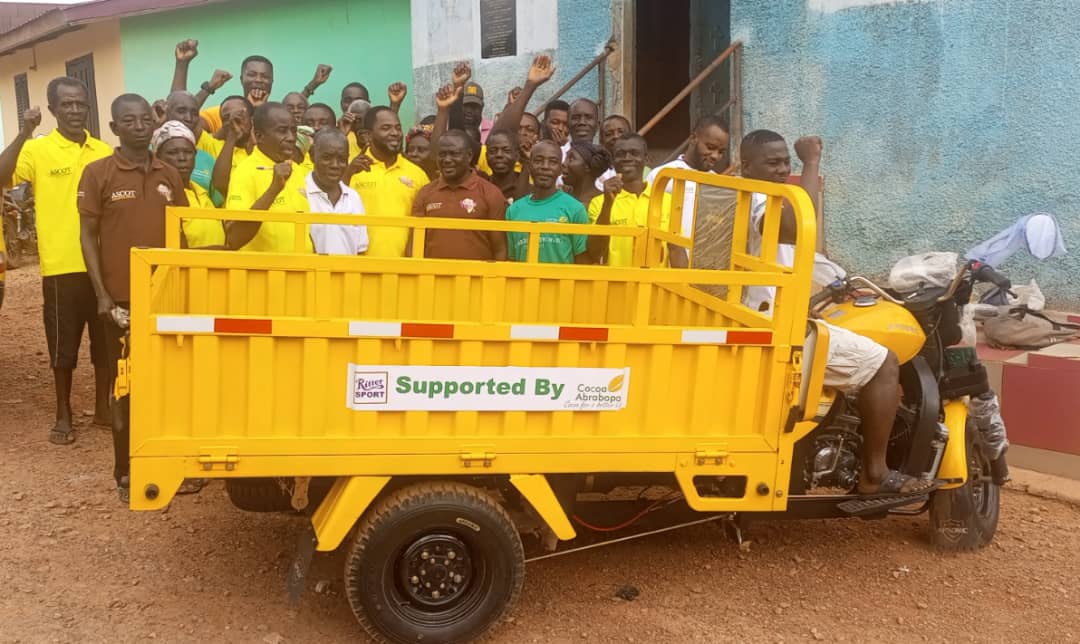 "Farmers' issues are on my heart and I believe that sustainable agriculture and a targeted set of alternative livelihood innovations, like the additional livelihood initiatives will help farmers produce better cocoa, adapt to climate change, increase their productivity and set goals to achieve our cocoa sustainability agenda," he pointed out.
The leaders of the farmer groups revealed that the living income initiative project being championed by the CAA is going to help reduce poverty in their communities.
They used the opportunity to thank the Cocoa Abrabopa Association for helping them understand how important it is to improve their livelihoods as cocoa farmers, crusade for their human rights, and help them mitigate and adapt to the climate crisis.
In attendance during the handing over ceremony of tricycles, agrochemical shop and Snail starter packs were also the Technical Coordinator (Bogoso Operational Area), Jonathan Haefiade, Selorm Wordi (Western Regional Manager, Cocoa Abrabopa Association), Philips Apalogta (Sustainability Coordinator), Joseph Adu Bosi (Child Development Officer).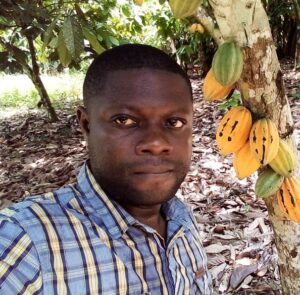 Latest posts by Nana Yaw Reuben Jr.
(see all)