Cocoa Merchants Ghana Limited [ CML] and Nestle Cocoa Plan have paid a sum of GHC1,080,000 as premium to partner cocoa farmers at Bekwai and Nsokote Cocoa Districts of Ashanti Region.
The amount covers 4,500 metric tonnes of cocoa beans purchased during the ended Main Crop Season.
This year's purchase, which is equivalent to 72,000 bags of cocoa beans, according to the Managing Director of the Cocoa Merchants Ghana Limited, Alhaji Abdul Fataa Adamu, comes on the back of some notable interventions including a sustainable cocoa programme commenced by the company in 2013.
The programme was geared towards improving the income and livelihoods of cocoa farmers and farm workers by implementing UTZ and Rainforest Alliance certification standards, and new initiatives for the value-added market.
"Due to our good work, Nestle Cocoa –through Beyond Beans Foundation –adopted Cocoa Merchants Asante Bekwai, Nsokote 'A' and 'B' Districts to produce and deliver good quality UTZ–certified cocoa beans," he said.
The programme currently has 4,500 cocoa farmers who have been taken through training and became UTZ–certified for which Nestle Cocoa, through Beyond Beans Foundation, purchased the 4,500 metric tonnes of cocoa beans.
The Managing Director of Cocoa Merchants Ghana Limited, Alhaji Abdul Fataa Adamu, noted that the partnership with Nestle Cocoa and Beyond Beans Foundation has led to the improvement of the livelihoods of the cocoa farmers.
He added that the project has also led to the production of cocoa juice with farmers in the Banko community in Asante Bekwai.
He encouraged the farmers to continue delivering their cocoa beans to Cocoa Merchants' Purchasing Clerks.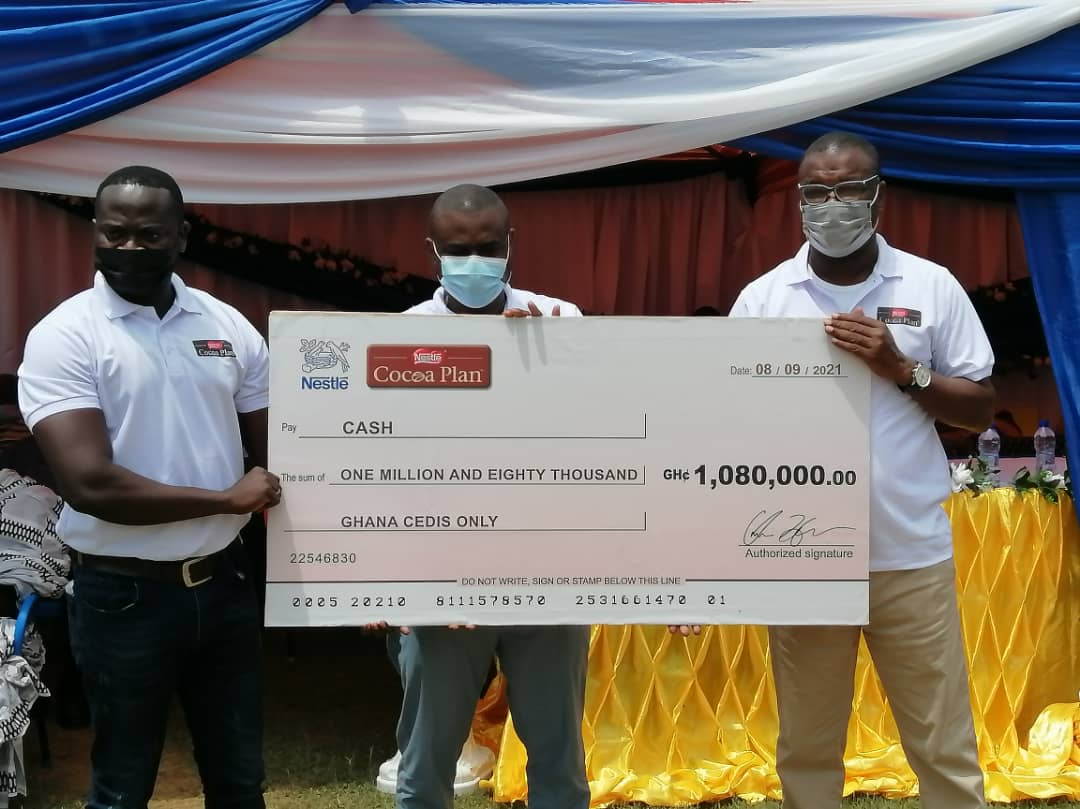 "I once again urge our gallant farmers to continue attending trainings and implement what you are taught in your farms, and also discuss the good practices with other farmers who are not even members of your group," Alhaji Adamu emphasised.
Global Innovations Manager for Beyond Beans, Marjolijn Hekelaar, reiterated their commitment to improve on the livelihoods of cocoa farmers.
She recognised the work they have been going with Cocoa Merchants Ghana Limited on the implementation of sustainability programmes in Ghana since 2016.
"We are in partnership together, working as one team toward the same goal, more sustainable cocoa and better livelihoods for our cocoa farmers," said Hekelaar.
She also recognized the work of cocoa farmers, noting that "without you, there would be no cocoa, meaning no Nestle Cocoa Plan, no Cocoa Merchants and no Cocoanect.
You are the future of cocoa, and we are proud to work with you. Over the last year, you have joined us in working on all elements of the Nestle Cocoa Plan, Better Farming and Better Cocoa", she stressed.
The Sustainability Coordinator of Cocoa Merchants, Stanley Asante, said as part of the "Better Farming" interventions, they have put in place measures to improve the welfare of cocoa farmers and good agronomic practices.
He said the project will motivate cocoa farmers to increase their yields and produce quality cocoa beans.
"These are also improved through training given by local Lead Farmers and Field Officers," Asante observed.
The Nestle Cocoa Plan Manager, Daniel Nyarko, said their sustainability programme has motivated cocoa farmers.
"It is very important for us at Nestle Cocoa Plan and also looking forward to enhance our project we do in the cocoa sector. A number of programmes we offer cocoa farmers to get additional income," Nyarko explained.
He said the programme has been very good for cocoa farmers. Farming inputs like cutlasses, knapsack sprayer, pruners, agrochemicals and others as well as television sets, mobile phones were given to the farmers.