How My Internship At Niche Cocoa Industry Influenced My Passion For The Ghana Cocoa Industry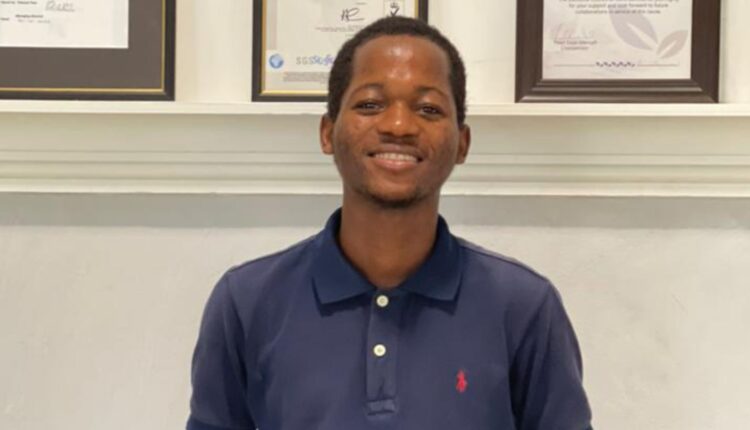 ISAAC ASSUMANG
I had no passion to work in the Ghana Cocoa Industry even though I am the son of cocoa farmers.
But thanks to Niche cocoa Industry Limited I am now very passionate about contributing to improving the Ghana cocoa industry through processing and value addition and massively engaging cocoa farmers to help improve their standard of living to facilitate sustainable growth of the industry.
This piece tells a story of my whole journey from the cocoa farm to the classroom, then to the factory and everything in between.
My earlier experiences in cocoa farming
I was raised in the cocoa farming community of Twifo Bepobeng in the Central Region of Ghana.
Both of my parents grow cocoa and other cash crops. I lived with my parents until I left them in 2013 at the age of 14 to further my studies at Agona Nyakrom Senior High Technical school.
I could say I have a great understanding of cocoa farming, and I am proud to have gotten such an awesome experience for life – even though it was a challenging one.
My expectation prior to the internship
Going to Niche Cocoa for my internship was a dream come true. I really wanted to know what really goes into processing the cocoa produced by farming families like mine, back at Twifo Bepobeng, and others across Ghana.
Thus I had one simple expectation; to learn how processing companies apply technology and all forms of knowledge – science and art – to convert the raw Ghana cocoa beans into value-added products of economic value
Reception into the actual world of work
I must say, respect among workers and management at Niche was the first thing I noticed on my first day in the company.
I remember being at the reception with my colleague interns; Addison, Obed, Louisa and Jason and almost every worker who passed by greeted us as if they have known us for years – that alone was an extraordinary welcome ceremony for me at the company, I must say.
It was such an awesome reception into the actual world of work.
Transitional experience
In fact, I knew stepping out of the classroom environment into an industrial working environment was not going to be an easy one.
A lot has changed as far as my personal and social life is concerned after my industrial internship.
I found out to be true that the scheme of affairs in industry is really quite different from academic.
I experienced a significant gap between industry and academia in the area of practical work.
Experiences from stages of production in the factory
Niche Cocoa Industry Limited is a free zone company located at Tema Free-zone enclave.
The company processes cocoa beans into semi-finished products namely cocoa liquor, cocoa butter, cocoa cake, cocoa powder. The confectionery arm of the company also manufactures finished products like chocolate.
At the Liquor Production Unit, I practically experienced how the cocoa beans go through cleaning, pre-drying, winnowing, roasting and the grinding stages in order to get the semi-finished product, cocoa liquor.
At the Press Section, the liquor is pressed to extract the two products cocoa butter and cocoa cake. The latter is pulverized to get cocoa powder.
I spent most of my internship period at the Quality Control Department, where I had hands-on experience in the analysis of free fatty acid, fat, moisture, ash, butter characterization, TPC, Coliform, Salmonella, etc. using ultra-modern laboratory equipment and standard procedures as prescribed by the International Organization for Standardization (ISO).
Benefits of the practical internship to my personal development
Knowledge in Cocoa Processing; bean sourcing, pre-drying, winnowing, roasting, grinding, pressing, tempering, packaging and critical control points – CCP.
Quality Control Skills; Moisture, ash, fat, FFA, PH, butter characterization, particle size, yeast and mould, Enterobacteriaceae, coliform, and salmonella analysis.
Research and Product development Operation of the thermohygrometer.
Practical understanding of food hygiene, sanitation and Quality Assurance.
Use of Analytical Profile Index (API) for the identification of Enterobacteriaceae and salmonella analysis
Understanding of employee code of conduct.
Ability to work without supervision.
Ability to work accurately with speed.
Ability to work in a team and effectively communicate to achieve a common goal.
Project management skills.
Lessons to share with my colleagues, students, industry and academia 
To my colleagues, I will say that in order to achieve food security and zero hunger (Sustainable Development Goal 2), let's use the knowledge we have gained in the classroom to upgrade the food system of Ghana and the world at large.
To all other students in the country, I will say that let us unite and champion the course of Ghana and the African renaissance.
I will advise all of us to be industrial minded in all areas that we find ourselves. When we plan our life, let's be more faithful to put Ghana first.
We are the future, and surprisingly to most of us, our future is now! Learn hard, build yourself up and more importantly have a clear vision that will direct your path; because "vision indeed simplifies life", according to Myles Monroe.
I believe that these two stakeholders – academia and industry – should collaborate more closely to help students acquire continuous practical experience alongside theoretical work in the classroom. I am convinced this will eventually bring out the best from the student.
More importantly, Industries should open up their doors for students when they apply for internships in order to marry the classroom knowledge with practical experience.
I strongly believe that development is highly dependent on the extent of collaboration between academia and industry – where students are well exposed to the world of work while pursuing their studies.
Appreciation (KNUST, Department of Food Science, Niche Cocoa Industry Limited, Family & Cocoa Post)
My utmost gratitude goes to the Almighty God for His protection, guidance, grace and insight throughout this internship period.
My profound gratitude also goes to my academic supervisor, Dr. Nana Baah Pepra Ameyaw; my field supervisors, Mr. John Attu and Mrs Elizabeth Larye for their guidance.
Also, to the internship coordinators, Dr. Gloria Ankar-Brewoo and Dr. Herman Lutherodt all of KNUST for their selfless coordination throughout the internship period.
Sincerely, I appreciate Mr. Edmund Poku, the Managing Director of Niche Cocoa Industry Limited and all Managers and workers of Niche.
To all Analysts at the Quality Control Department of Niche, especially Mr. Innocent Ashinyo, Mr Isaac Boamah (Bean Sourcing Manager) and Mrs. Linda Boamah (R&D), I thank you for your immense help and advice, especially during my project work.
Again, my sincere appreciation goes to my family, Uncle John Okyere and Aunty Gifty Okyere, Miss Bridget K. Okyere, my Dad Mr. Johnson K. Essuman, my dear Mum Mrs. Florence Kumi and Mr. Isaac Quarmson for their unfailing love, sacrifices and support.
Finally, to all Teaching and Research Assistants at the Department of Food Science and Technology, KNUST, especially Mr. Raphael Aidoo, Mr. Philip Yeboah, Mr. Edmund A. Larbi, Mr. Nii A. Adjetey and everyone who helped me throughout this internship period I pray for more grace and favour upon your life.
To Cocoa Post, I say a very big thank you for giving me the opportunity and such a big platform like this to share my story with Ghana and the world at large.
Sneak peek into the next step of my journey and the contribution I am going to make to industry and the Ghanaian economy
My major focus now is to continue pursuing higher education (knowledge), to receive intensive and extensive practical knowledge through research, internships, workshops etc.
I intend to contribute to help bridge the gap between the cocoa processing industry and cocoa production, by creating awareness of the significant role farmers play towards achieving food security, nutrition, and improved standards of living and sustainable socio-economic development in Ghana.
I believe that the sustainability of the Ghana cocoa industry largely depends on two things; first, how well those who produce the raw cocoa beans (farmers) are fairly treated (fair prices for their hard work, incentives and education) and secondly the availability of processing industries/workforce that will add value to the produced beans locally.
Lastly, I am currently working on my NGO. It is the utmost vision of my NGO to strongly partner with the government for policy development, to improve the lives of cocoa farmers, bring the youth on board to increase production in order to make the Ghana cocoa industry ever more sustainable.
This, I believe in the long term, will surely translate into building an even stronger economy for Ghana.
Latest posts by Isaac Assumang
(see all)