Ghana Eyes $2.8bn Revenue from Coconut Industry by 2021
The West African nation is on a campaign to promote increased production and exploitation of all benefits of the crop for economic gains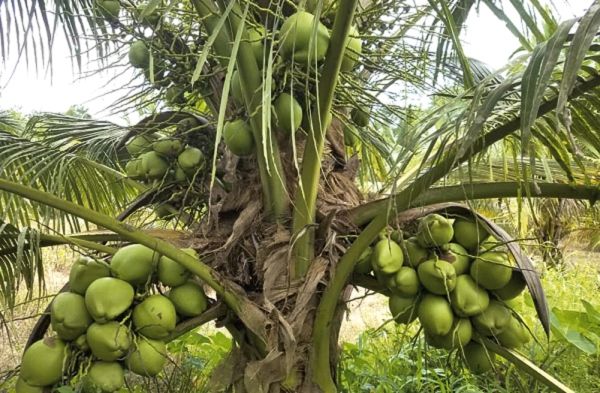 The Ghana Export Promotion Authority (GEPA) has estimated a $2.8 billion coconut revenue for Ghana by 2021 if efforts to improve production, processing, and exportation of the crop are successful.
As part of government's effort to promote other cash crops in its Planting for Export and Rural Development (PERD), GEPA and the African Coconut Group are organising the first-ever International Coconut Festival to bring to bear some of the hidden benefits of coconut and how Ghana can earn foreign exchange from it.
Speaking at an unveiling ceremony for Ambassadors for the campaign in Accra, Director of Public Relations of GEPA, Ruth Maafo, indicated, the festival, scheduled to take place between the 24th and 26th of September this year will bring together stakeholders in the coconut industry across the globe to connect to Ghanaian farmers to make them globally competitive and have value for their produce.
"The festival gives us a platform to interact more to network along the value chain and once we know more about what you can derive from coconut, people are going to develop other means of revenue streams that if they were doing it on a small scale, they wouldn't have gotten", she explained.
Mrs. Maafo added that the Africa Continental Free Trade Agreement will also be a major boost for exporting the crop across the borders of Ghana.
"Coconut is regarded as tropical fruit and once the agreement is in place and we'll be able to go through other countries without barriers, then, of course, it is another opportunity for us to sell as much as we want so it's just another area for us to promote the crop" she said.
Meanwhile, a Director of the African Coconut Group, Kwaku Boateng, said many of the benefits of coconut remain untapped.
"Coconut water was sold for $312 million in the United States in 2012 because of the nutritional benefits we derive from the water," he said.
"Coconut creams and soaps clear scars and baldness, curing Parkinson's disease, breast lumps, boosts the immune system and fights cancerous diseases amongst others," he said.
Kwaku Boateng, who has researched into coconut for the past 20 years additionally shed some light on the shell of the fruit saying it is used to "manufacture charcoal which can further be converted to active carbon used in the mining industry to extract gold from the soil due to its high absorptive qualities and a kilo worth about 1,200 dollars".
Also, the husk contains an element of fibre used to produce doormats, mattress, whereas the peat is likened to organic fertilizer which is used to plant crops during the dry season and also used as a growth medium for greenhouse.
"These same husks have the fibre which can be converted to manufacture car seats, Benz, the car seats inside, some are manufactured with coconut husks not forgetting the whole tree which can be used for lumber and when we are able to increase the raw material base, then all the other benefits we are talking about will come to bear", Kwaku Boateng indicated.
"If you go to Brazil, they've manufactured about 10 million cars which use biodiesel made from coconut and in the Solomon Islands, there is a portion of the Island that uses coconut oil as diesel to generate electricity", he said.
Mr. Boateng finally demonstrated how coconut can drastically reduce unemployment by likening it to the lives it has transformed in the Philippines.
"If you go to the Philippines and the statistics are there, the coconut industry has employed about 35 million people in the whole value chain and I always ask myself, what is the population of Ghana?" he quizzed.