Lindt Home of Chocolate Visitor Centre Opens September 13
Swiss chocolate giant Lindt & Spungli is set to open its chocolate museum and experiential facility at its factory site at Schokoladenplatz 1 in Kilchberg, Switzerland.
Effective next month guests from all over the world will be able to visit and tour the magnificent €100-million facility financed by Lindt Chocolate Competence Foundation by the charity arm of the company.



"After just 36 months of construction, the Lindt Home of Chocolate will open to the public on September 13, 2020", Lindt revealed in a press release, calling the edifice as "a major milestone in Swiss chocolate history."
Lindt Home of Chocolate boasts of a multi-media and interactive exhibition, a research facility and a live chocolate production show.
Other features include the world's largest Lindt chocolate shop, a Lindt café and a Lindt Chocolateria for chocolate courses.
According to the company, a special highlight of the unique facility is the world's largest chocolate fountain positioned at the entrance area standing more than 9 metres tall.
The iconic chocolate experiential centre also allows visitors to take a glance over the shoulders of the renowned Master Chocolatiers.
The new Lindt Home of Chocolate is located in close vicinity and with ideal transport links to Zurich, which the chocolate manufacturer believes makes it an attractive day-trip destination for chocolate fans from Switzerland and abroad.
"The visionary construction project at Lindt & Sprüngli's headquarters in Kilchberg has the aim of contributing towards the future of Switzerland as a business location for chocolate for the long-term", Lindt posted on its official website.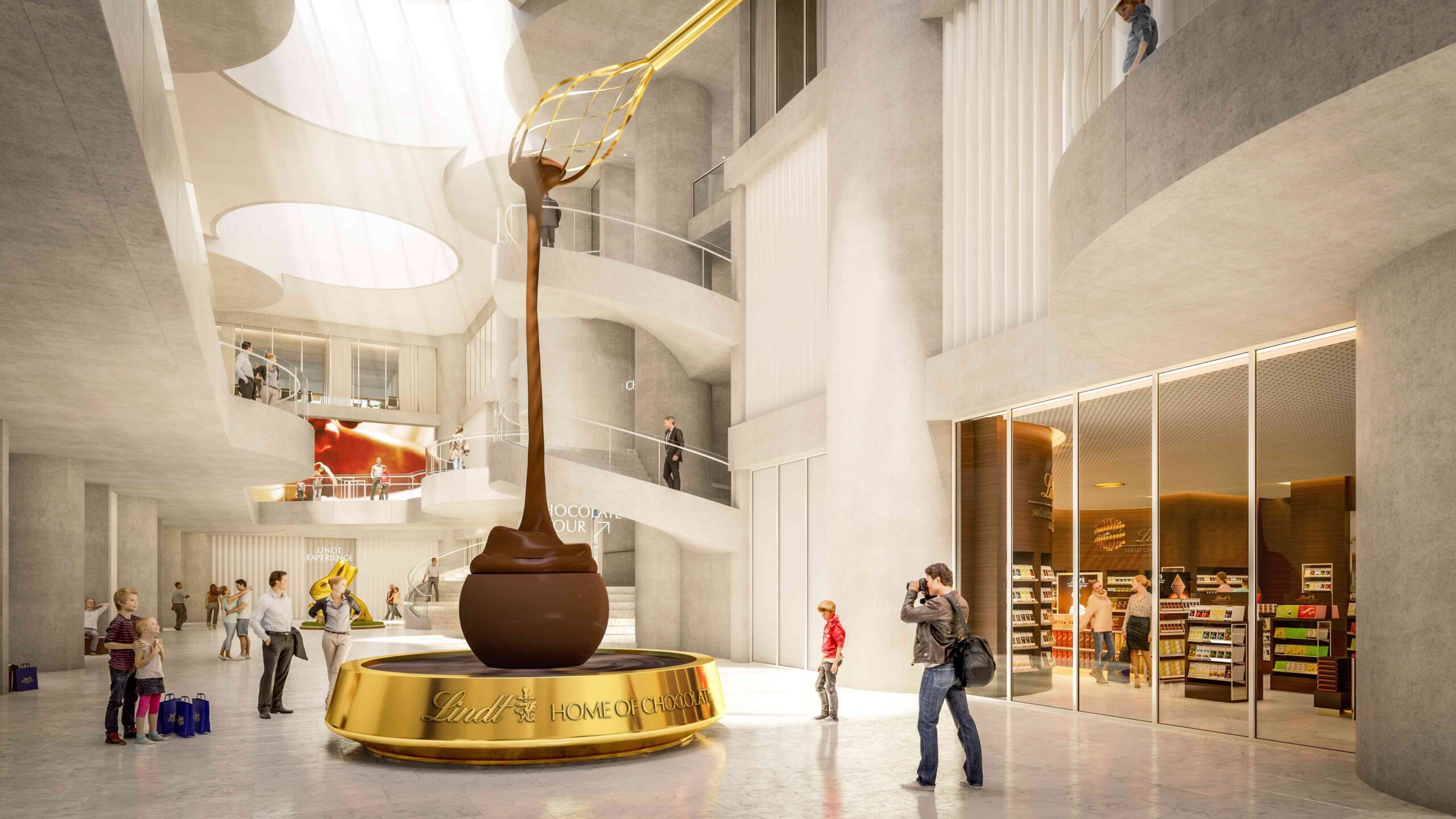 The physical construction of the project commenced in 2017 after three years of preparatory works and procedures spearheaded by Lindt Chocolate Competence Foundation, the project financier.
The plans for the multifunctional building were drawn up by Basel-based architects Christ & Gantenbein, whose work was inspired by the historical Lindt & Sprüngli factory building from 1899 and fits perfectly into the existing surroundings in Kilchberg.
The three-story building has a distinctive design: curving staircases, suspended walkways and imposing skylights in the ceiling which lend the building a particular elegance.
"At the same time continuing the pioneering work of the former company founders. With their spirit of invention and business sense, the pioneers made Swiss chocolate famous across the world and embedded it into the national identity", Lindt said.
Lindt Home of Chocolate opens for chocolate tours at 15 francs for adults and 10 francs for children aged 8 and older.



TAKE A VIRTUAL TOUR HERE AHEAD OF OPENING
Latest posts by Kojo Hayford
(see all)