Rainforest Alliance has donated critical Personal Protective Equipment (PPE) to health officials in Sefwi Wiawso, Akontombra, Bodi and Bibiani Ahwiaso-Bekwai Municipal areas in Ghana's Western North Region to fight COVID19, following the outbreak of the new Omicron variant.
The donation was part of an ongoing effort by Rainforest Alliance and its partners to curb the spread of the COVID19 pandemic in Ghana.
The donated PPEs comprised liquid soaps, hand sanitisers, transparent face shields, infra-red thermometer, headgear, gown boot, surgical gloves, face mask and response kits among others.
The exercise provided an opportunity for the over 1500 beneficiaries to be screened for various illnesses, including diabetes, hepatitis B, malaria and HIV.
The RA also facilitated free COVID19 vaccination for residents in the beneficiary communities.
Manager Landscapes and Communities Rainforest Alliance, Kwadwo Nti Baniako, who presented the PPE items to the health officials said it's the organisation's desire to help boost residents and farmers immunity and maintain their wellbeing, especially as the Covid19 pandemic continues to affect the lives of people across the globe.
He said that the outreach was to provide the community and farmers access to free medical care and medication because the body has its threshold of weakness.
"As we eat and drink, we breathe in and out, take medicine, we don't know what we are introducing into our system and as blood circulates through our system, if we don't give the body good health maintenance, what it means is that, the body will end up breaking down," Mr Baniako explained.
As part of the PPEs donations, the Landscape and Environmental Agility across the Nation (LEAN) project also provided free health screening to residents and farmers in Sefwi Wiawso, Akontombra, Bodi and Bibiani-Ahwiaso-Bekwai
The European Union-funded LEAN project sponsored the exercise and was ably supported by Olam Ghana Limited.
The LEAN project has other implementing partners like Tropenbos Ghana, World Vision and Ecocare Ghana.
Municipal Director of Health Service, Bibiani Ahwiaso-Bekwai in the Western North Region, Oheneba Oppong-Darko said COVID19 vaccination is now mandatory for all including farmers.
"We are still in the battle against COVID-19, so these items are going a long way to support the fight against COVID. We are grateful to Rainforest Alliance and their sponsors for this kind gesture and I must reiterate that these items would go a long way in the fight against the COVID 19 in the Western North Region. We are so happy to receive these items," he said.
The Sefwi Wiawso Municipal Health Director, Dr. Francis Boakye Takyi, said the items were a very important contribution towards the emergency response to the fight against the Covid19.
"As Covid 19 came around, we have been receiving donations from government and some philanthropists.
Let me say this; this organization called us some time back and informed us that they want to present some items to us.
As a matter of fact they came to us for a list of items we needed at the health directorate. Here we are today they have brought a lot of items beyond our expectations. On this note, we want to express our gratitude to Rainforest Alliance and European Union for this great support," he mentioned.
Disease Control Officer, Sefwi Wiawso Municipal, Koyaara Abraham, said the free health screening included a comprehensive check-up performed by nurses and medical specialists.
He explained that patients were also able to consult the doctors present on site, and collect drugs.
"I wish that the initiative would be an annual affair to bring relief to the vulnerable," he said.
Chairman of Sefwi Wiawso Landscape Management Board, Isaac Brafi, expressed gratitude to Rainforest Alliance for the gesture and urged them to repeat the gesture often.
In attendance at the screening and PPEs donation exercise were Abena Dufie Woode (Senior Project Manager for Landscapes and Environmental Agility Across the Landscape), Emmanuel Antwi Bawuah (Senior Associate Landscapes and Communities) and Kelvin Abraham Nartey (Senior Associate Landscapes and Communities).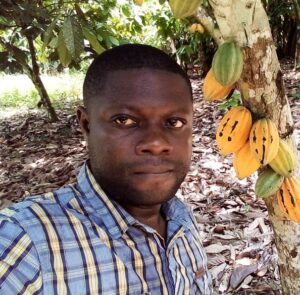 Latest posts by Nana Yaw Reuben Jr.
(see all)