Amplified Business, a social marketing initiative of Ghana's Ministry of Information, has cast the spotlight on Flexy Foods, manufacturers of the Kamini Chocolate brand.
The Minister of Information, Kojo Oppong Nkrumah, led a team from his Ministry and the Information Services Department (ISD) on a learning tour of the Flexy Foods factory, on 22 May 2023.
Under the Amplified Business initiative, the Minister and his team seek to promote Ghanaian businesses by highlighting the products and services of young entrepreneurs.
On his visit to one of Ghana's leading woman-led startups located at Amrahia, a suburb of Accra, Mr Nkrumah interacted with Lucy Afari, the Chief Executive Officer of FLexy Foods and her team.
Briefing Cocoa Post after the visit, Mrs Afari noted that the Amplified Business delegation learnt first-hand about their business operations, challenges confronting them and potential opportunities.
"We showcased the products we have, and what we have achieved," said Lucy Afari, the CEO of Flexy Foods.
She added that "in Ghana, artisans are coming up who produce chocolate and other cocoa products and advocated the need for Ghana to promote artisanal chocolate and also push these artisans into the AfCFTA market to benefit the country."
Afari, who doubles as an Executive Committee member of the Cocoa Value Addition Artisans Association of Ghana (COVAAAGH), reiterated the challenge of the lack of access to cocoa beans by Ghana's cocoa SMEs.
She also noted the huge burden of duties, levies and taxes confronting cocoa SMEs under the country's Free Zones law.
Afari, however, welcomed the proposed Cocobod policy to make available some minimum quantity of cocoa beans to indigenous small and medium-scale enterprises, explaining it would have a significant impact on the viability of enterprises.
On his part, the Minister of Information, Kojo Oppong Nkrumah, catalogued some government initiatives that exist to support Ghanaian businesses, including the Ghana Enterprise Agency, which has recently launched a grant for youth and women startups.
He also mentioned that Afreximbank has facilities that support business expansion processes that groups like COVAAAGH could take advantage of to scale their businesses to the next level.
He commended Ghana Cocoa Board for the innovative policy direction to deliberately support and nurture indigenous Ghanaian entrepreneurs to take a share of the value of the global cocoa and chocolate industry estimated at around $130 billion per annum.
Nkrumah encouraged the team at Flexy Foods to also keep up the good job and reach for the global market with their high quality and well-packaged products.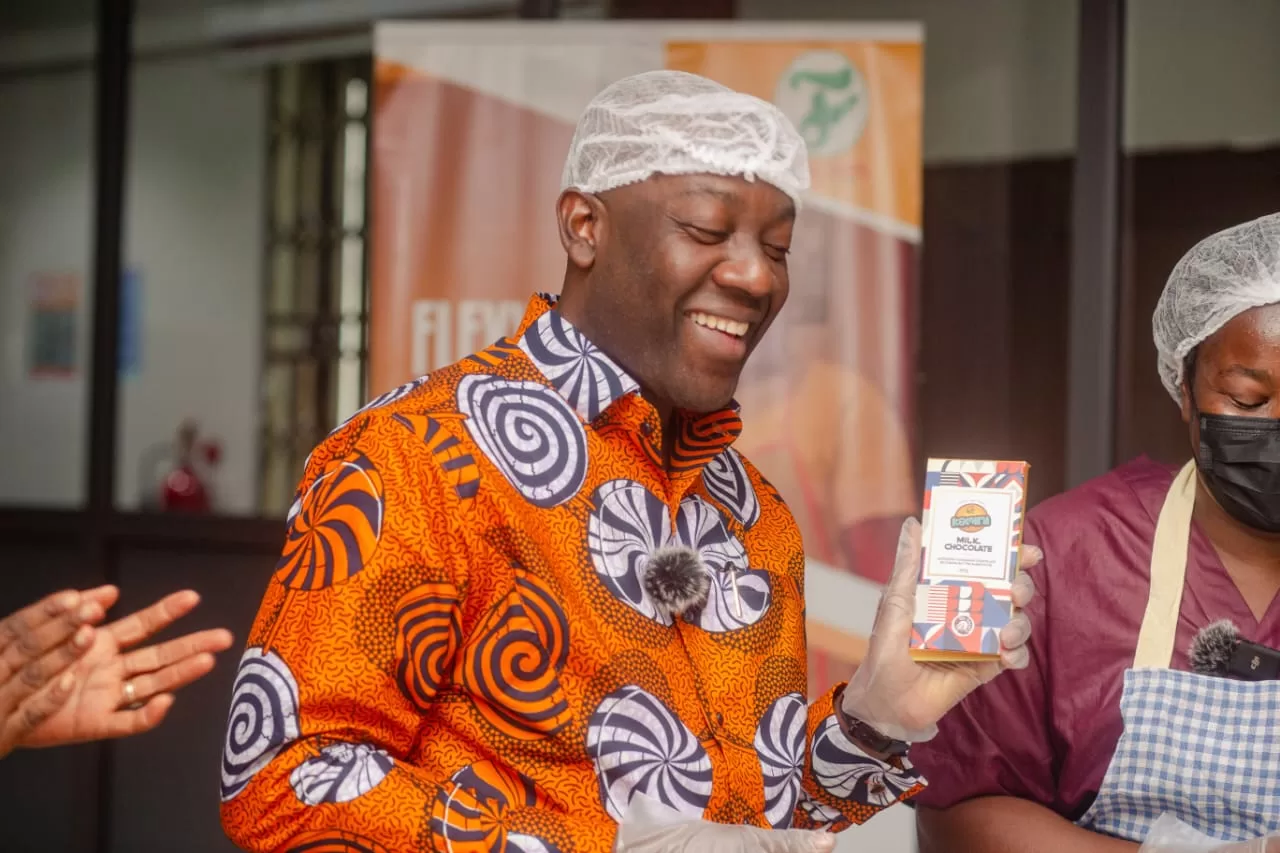 Flexy Foods was established in 2017 as a food processing business and has grown into a cocoa value-addition enterprise.
They boast of specialty products in cocoa, cereal, and dairy processing with product ranges including chocolates, cocoa powder, coated nuts and fresh yoghurt.
Flexy Foods also offers food processing training services for persons desirous of venturing into agribusiness.
Latest posts by Kojo Hayford
(see all)