Ghana's cocoa industry regulator, Cocobod, has warned of a looming fertilizer shortage on the back of the Russia-Ukraine war.
According to Chief Executive Joseph Boahen Aidoo, the West African country's cocoa farmers may have to consider a switch to poultry manure as cocoa fertilizer in a desperate stopgap measure.
Ghana is the world's second-largest producer of cocoa, with a local fertilizer industry heavily dependent on essential raw materials imported mainly from eastern Europe – Ukraine, Russia and Belarus.
"With the war in these three countries, Belarus wasn't involved but Russia has just drafted them in, it means we cannot get the base elements to produce the fertilizer," Aidoo noted in an interview with Accra-based TV3.
The Russian invasion of Ukraine and the subsequent Western sanctions have entered its fifth week dealing a huge blow to several commodity supply chains, especially the petrochemical industry the backbone of synthetic fertilizer production.
Fertilizer Shortage Imminent
With no end in sight, fears are that global agriculture may soon reel under widespread fertilizer shortages.
"Not just for Ghana but globally, it is going to be difficult and once that base element cannot be obtained it means there is going to be a shortage," the Cocobod boss feared.
"There is no way those materials will come. So we must all brace ourselves that come next year, it won't be there, or even if it is going to be there may be from other countries but it will be very limited," the Ghana cocoa chief warned.
Some cocoa industry watchers are on the same wavelength as the Ghanaian cocoa sector regulator.
Eliseus Opoku Boamah, an industry analyst, foresees the cost of fertilizer hitting the roof in the coming months with the Ukraine war showing no sign of abating.
Boamah is concerned that the price hikes will make it too costly for Cocobod to afford a continuation of its fertilizer subsidy programme.
"Fertilizer subsidies are not sustainable. The time has come for Cocobod to review the policy and channel the funds into beefing up the cocoa producer price," Boamah recommended.
He is convinced that when the producer price is good enough cocoa farmers will be empowered to invest in fertilizer fully aware of the impact of fertilization on yield and productivity.
Switch to Organic fertilizer
But in the interim, Cocobod's main concern borders on finding alternatives for cocoa farmers.
"We as a country will then have to look for alternatives. We have been telling the farmers that when you talk about fertilizer it is not just the inorganic fertilizer, even the organic fertilizer, poultry manure is the best, this is the time," Aidoo advised.
It is in anticipation of the brewing supply disruption in conventional fertilizer that the Board has started sensitising its thousands of smallholder cocoa growers to adopt the usage of poultry manure as a substitute.
Eliseus Opoku Boamah finds Cocobod's proactive step to preempt a dire situation commendable, adding that "the call to consider the usage of organic fertilizer is paramount."
Supply capacity
There are an estimated 800,000 smallholder cocoa farmers in Ghana with an average farm size of about 2 or 3 hectares.
The math points to a huge potential demand for poultry manure by cocoa farmers as well as growers of staples and other food crops.
However, recent reports suggest a struggling local poultry industry, devilled with myriad challenges and decline, begging the question of its capacity to meet this emerging demand.
Also worthy of consideration, beyond the issue of accessibility, is the nutrients offering of chicken manure vis-a-vis the actual requirement of a standard 'cocoa fertilizer'.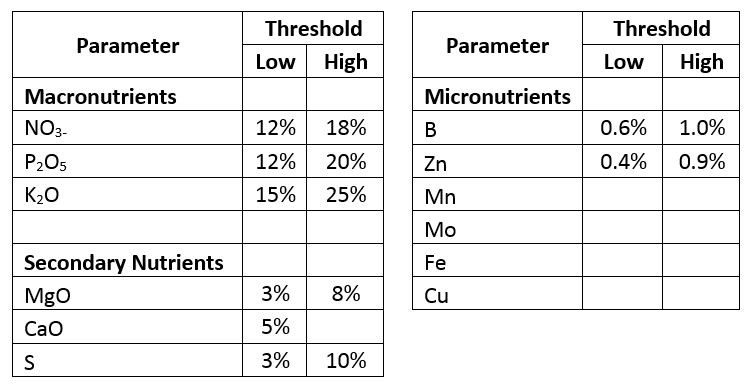 According to experts, a good cocoa fertilizer would contain Nitrogen (N), Phosphorus (P), Potassium (K), Calcium (Ca), Sulfur (S), Magnesium (Mg), Zinc (Zn) and Boron (B) in the right proportions or balance.
Whereas it is quite simple to blend chemical fertilizer to the prescribed ratio, the same cannot be said of manure.
Effectiveness of manure
Dr Dirk Lebe, an agri-finance consultant, in his publication, 'Enriching Soil To Increase Cocoa Production' argues that cocoa farms would need large quantities of poultry manure to meet optimum nutrient needs.
"Raw or processed organic material and animal manure often have poor ratios of the necessary nutrients and large quantities are required for it to be effective, which can create accessibility challenges," Lebe highlighted.
He observed, however, that manure drives microbial growth, which supports nutrient absorption.
Despite this obvious benefit, Dr Lebe suggested that poultry manure might not be suitable for every type of soil as "Microbes do not like acidic soil; therefore a pH level of 5.8 is essential."
Ivorian experience
Poultry manure for cocoa farm fertilization, unlike in Ghana, is quite common in Ivory Coast, the world leader in cocoa production.
Ghana's western neighbour boasts of annual crop output north of 2 million metric tonnes yearly.
A 2015 study revealed that as much as 30% of the country's cocoa farmers patronise chicken manure in the fertilisation of their farms.
It found claims by farmers that cocoa responds faster to chicken manure than it does to chemical fertilizer and gave a 30% increase in annual yields, claims yet to be confirmed by any empirical research.
Safety concerns
But the lingering question though is how safe is poultry manure for land application as organic fertilizer?
A study on this subject published by the American National Center for Biotechnology Information (NIH) found dangerous food contaminants such as Salmonella, E. coli and Actinobacillus among the most prevalent bacterial contaminants in chicken litter.
"Reusing litter is a common cost-reduction strategy in developing countries, which should be discouraged," the authors warned.
The 2019 report by a group of scientists led by Uganda's Margaret Kyakuwaire revealed that "chicken feeds and feed ingredients (pre-mix) are particularly loaded with heavy metals; for example, complete chicken feed and pre-mix in Asia, North, and Latin America contain 782.8 mg Cd/kg and 1094 mg Cd/kg, respectively, way above the MPL of 0.5 mg Cd/kg, according to the EU Standards Agency."
"The extremely low retention efficiency for these metals by the birds means that a large portion ends up in excreta, making chicken litter a hazardous source of the contaminants," the scientists disclosed.
Organic fertilizer alternatives
But besides its recent poultry manure recommendation, Cocobod has through its research agency, Cocoa Research Institute of Ghana (CRIG), approved a number of organic fertilizer products for use by cocoa farmers.
One such product currently on the market is Begreen-F Organic Liquid Fertilizer from Eco Index Agro Solutions Ltd.
"Cocobod's advice on organic fertilizer is in the right direction. We believe the time has come to encourage and invest more into organic agriculture in Ghana and mainstreaming organic farming practices, especially in cocoa to curb climate variations and increase quality cocoa bean production as well as sustainability," said Daniel Baisie Jnr, the Country Director of Eco Index Agro Solutions Limited.
"Unlike the mineral fertilizer that has serious complications to our arable soils, our organic liquid foliar fertilizer is proven to significantly improve plant health and disease resistance, boost crop yields and enhance microbial population, and soil moisture content but to mention a few," Baisie emphasised.
He further noted, "beyond being environmentally friendly, organic food production offers significant health benefits to consumers, helping to reduce health issues and improving wellbeing."
Despite the promise, organic cocoa farming in Ghana is in its nascent stage accounting for only a minute proportion of national production.
Yayra Glover, the country's leading organic cocoa exporter, together with some 5000 organic cocoa producers accounted for less than 20,000MT of the 1.047 million metric tonnes achieved in the 2020/21 crop year.
Ghana's output for that year although representing a national record was less than half of Ivory Coast's 2.24 million metric tonnes.
But apart from being second to Ivory Coast in cocoa production by volume, Ghana has no competition in terms of quality.
It maintains the premium quality accolade globally for the superiority of its cocoa beans by several factors.
Top among them is its low chemical residue levels adjudged by international food safety standards.
But how much longer can Ghana cocoa hold on to the premium quality accolade as cocoa growers are advised to resort to poultry manure?
Latest posts by Kojo Hayford
(see all)