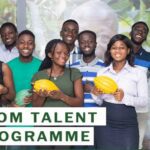 ECOM Talent Programme (Company background)
ECOM Agro-industrial Corp. Ltd is a leading global commodity merchant and sustainable supply
chain management company.
As an origin-integrated business operating in over 40 major commodity-producing countries worldwide, ECOM focuses primarily on coffee, cotton, and cocoa, and is also diversified in selected other agricultural products and services markets.
ECOM West Africa (WECOM) works in a selection of communities that produce and trade major
international commodities.
WECOM contributes to the prosperity of its host communities by
providing products and services that enable farmers to increase household incomes, build income
resilience, improve, and sustain community access to social services.
WECOM works with over
150,000 smallholder farmers in West Africa, through its Sustainable Management Services (SMS)
division.
ECOM Talent Programme (National Service)
Are you a final year student with strong leadership skills studying Agriculture, Finance, Economics, or another business-related field?
Are you entrepreneurially and commercially minded? Do you want to make an impact in rural communities?
Do you want to develop hands-on corporate experience and exposure with a Multinational team?
Then, join the ECOM Talent Programme today for an opportunity to undertake your National Service with a great team and grow with us into the future!
To apply for this job please visit bit.ly.