Forever and a day, Saturday 9th September, 2023 would remain etched indelibly in the memories of Ghanaian cocoa farmers for a very long time for the glad tidings it brought to their homes.
The day was not only a great day but undeniably a momentous occasion in the over a century history of cocoa farming in this country and rightly so because days before the "Big Day" there were flyers circulating on social media captioned "The Big Announcement" to subtly indicate to Ghanaians the day portends well for our hardworking cocoa farmers who toil day and night to put Ghana on the world map.
The day indeed lived up to its billing! At a very impressive and well-attended durbar of chiefs and people, mostly cocoa farmers, His Excellency the President of the Republic, Nana Addo Dankwa Akufo Addo in a well-written speech which espoused the key roles cocoa has played in the lives of cocoa farmers and Ghana's economy over the years as he announced the new producer price of cocoa for the 2023/2024 crop season to spontaneous cheers, dancing, wild jubilation and fanfare at Tepa in the Ashanti Region.
"Farmers would receive GH 20,943 ($1,837) per ton for the 2023/2024 season, compared with GH 12,800 they got in the previous year" he announced. It was a spectacular and beautiful sight to behold as jubilant cocoa farmers spread their garments on the ground for President Akufo Addo to walk on, akin to the triumphant entry of Jesus Christ into Jerusalem. The day was indeed a great memorable day.
Another significance of the day was the fact that Ghana's cocoa season for the first time in many decades was being opened in September, one clear month ahead of the usual October which had come to be associated with the opening of cocoa seasons.
This single decision invariably granted the longstanding wish of many cocoa farmers who at every farmer forum advocate for the opening of the cocoa season in September as September marks the beginning of the new academic year during which farmers desperately need cash to enable them to take care of the academic/school bills of their dependents like new textbooks, notebooks, school uniforms, footwear etc. Therefore, to many cocoa farmers opening the 2023/2024 crop season in September was like a dream come true.
One remarkable highlight of the President's speech was the fact that he stated quite unequivocally "the new producer price is the highest paid to farmers across West Africa in more than 15 years" This lays ample testimony to the unshakable role of cocoa as the fulcrum around which Ghana revolves and the mainstay of the country's burgeoning economy as aptly captured by an industry slogan "cocoa is Ghana and Ghana is cocoa". The contributions of cocoa to Ghana's economy therefore cannot be overemphasized.
It is against this background of the overarching importance and centrality of cocoa to the Ghanaian economy that the producer price of cocoa paid to local cocoa farmers was increased by more than 63% ostensibly to boost cocoa farmers' incomes and secondly to effectively stop the smuggling of cocoa beans to neighbouring countries where cocoa beans fetched more money.
According to Ghana Cocoa Board (COCOBOD), the industry regulator, Ghana lost around 150,000 metric tons of beans in the 2022/2023 season to smuggling and artisanal gold mining popularly known as "galamsey".
Smuggling of cocoa beans became lucrative last season because of the weak cedi and a lower farm gate cocoa price here in Ghana as compared with that of neighbouring Cote d'Ivoire, the world's top cocoa producer.
Beans were also smuggled through the eastern corridor to our neighbouring Togo because there too the price was better than that of Ghana. This contributed hugely to reducing the production capacity of Ghana and this essentially was part of the reasons why the government closed the season a month earlier than expected and brought forward the start of the new crop season to September instead of October.
Let me outrightly state that, using the exchange rate differential ceteris paribus the new producer price of cocoa would make farmers better off today than six to seven years ago.
In the 2016/2017 crop year, the Free on Board (FOB) price per bag (64 Kg) of cocoa beans was GH¢745. The government paid cocoa farmers a corresponding producer price of GH¢475 per bag. In the 2017/2018 crop year, the FOB price however dropped to GH¢527 but the government kept faith with cocoa farmers and still maintained the producer price of GH¢475 despite the drop and for me, this is highly commendable.
In the 2016/2017 crop season, the exchange rate of the dollar to cedi was $1 to GH¢4.4 which meant the producer price per bag of GH¢475 translated to $107.46. Today, the exchange rate is $1 to GH¢11.42, and the price per bag of cocoa is GH¢1,308 which translates to $114.74.
This literally means the cocoa farmer today is better off than in 2016/2017 all things being equal. The government deserves an overwhelming applause for this remarkable feat that delineates their faith in cocoa farmers.
Notwithstanding, in real terms, this might be evasive and wishful thinking. These gains might not necessarily reflect in the livelihoods of the ordinary cocoa farmer for a myriad of reasons; A depreciating currency, untamed inflation and high exchange rate might erode all the gains preventing farmers from reaping the full benefits of the unprecedented raise in the producer price of cocoa.
Rising prices of goods and services might invariably cut short the joy of farmers even before the close of the season and this must be checked. It is therefore imperative and incumbent upon the handlers of our economy to do everything within their power and intellect to ensure some real stability within the economy lest our gallant cocoa farmers most of whom are already vulnerable would have no other alternative than to sink further down the abyss of poverty.
It is sad to note that the production levels and for that matter productivity of most of our cocoa farmers is very low, almost nothing good to write home about. Ghana's average annual cocoa production currently stands around 400-500 kg/ha which translates into a paltry 2 bags per acre far below Cote d'Ivoire's average annual production of about 800 kg/ha and Malaysia's 1200 kg/ha.
So then cocoa farmers year after year are unable to enjoy fully the benefits of the guaranteed annual increment in the producer price of cocoa and this year's is no exception. The only way to change this narrative is for the farmers themselves to work hard to ensure an appreciable increase in not only their production levels but also their productivity. This is the surest way they can benefit fully from the 63.5% increment in the producer price.
For instance, if farmers are able to work together with the hardworking Community Extension Agents (CEAs) of CHED-COCOBOD to raise their average annual production levels to at least 10 bags out of COCOBOD's prescribed minimum of 16 bags per acre, poverty in cocoa farming communities would be curtailed to a large extent and would become a thing of the past.
To this end, COCOBOD in 2017 introduced the novel Productivity Enhancement Programs (PEPs) which when adopted by cocoa farmers has the natural propensity of enabling them to shore up cocoa production levels across the cocoa growing districts and regions of the country.
These PEPs initiatives include rehabilitation of Cocoa Swollen Shoot and Virus Disease (CSSVD) cocoa farms (17% of the total national tree stock) and overaged and moribund cocoa farms (23% of the total national tree stock) free of charge with the payment of monetary compensations to affected cocoa farmers and their landowners.
Other PEPs include; mass pruning, artificial hand pollination, enhanced CODAPEC/HiTech popularly known as cocoa mass spraying the distribution of subsidized fertilizer to cocoa farmer cooperatives, irrigation, the annual supply of millions of free hybrid cocoa seedlings for the establishment of new cocoa farms and replacement of died out areas etc.
Farmers who have already adopted these PEPs interventions are raking in the full benefits of these interventions. Indeed, some have already normalized the production of 15+ bags of cocoa per acre. This is expected to send a strong signal to cocoa farmers that no serious farmer should settle for less and for that matter, no farmer should be comfortable with harvesting 2 bags per acre or less as it cannot lift such farmers out of the doldrums.
Another pertinent challenge of Ghana's cocoa sector is the twin issue of inherited farms and absentee farmers. It is a fact that a lot of farms in this country are inherited and the inertia on the part of new farm owner(s) to adhere to technical guidelines as prescribed by CHED-COCOBOD to get maximum yield is quite worrisome and disappointing.
Unfortunately, these are the ones who mostly claim cocoa farming is not a lucrative venture. But how can cocoa farming be lucrative if the farm owner fails to take good care of his or her own cocoa farm? Such farmers' only interest lie in harvesting ripe pods for cash. Simple farm maintenance activities like weeding, spraying, pruning etc. is such a tussle for some of these inherited and new owners and absentee farmers. Such farms usually produce very little output.
Most of these same absentee farmers are the ones who have allowed nation-wrecking activities like illegal mining (galamsey) to destroy many of our cocoa farms including farms rehabilitated at the expense of the taxpayer. Some of these inherited/absentee farmers who fail to invest in the business of cocoa farming go about misinforming potential investors of cocoa farming.
This unbridled misinformation and misrepresentation of cocoa farming even by the media has caused some farmers to give up their cocoa farms for oil palm and rubber production, which is very unfortunate.
It is rightly expected that the unprecedented increase in the producer price of cocoa for the 2023/2024 cocoa season would directly incentivize our gallant cocoa farmers to maximize production by expanding the frontiers of cocoa production to improve their own livelihoods. Agreeably, this would keep Ghana afloat and in the lead as the world's leading producer of premium quality cocoa beans and the second leading producer of the commodity globally.
For a successful crop season, COCOBOD must do everything within its power to ensure not only the all-year-round availability of cash and prompt payment at the point of sale i.e. Purchasing Clerk (PC) for farmers to enjoy the full benefit of the new producer price.
The thorny issue of uneven weighing scales though has been addressed by COCOBOD through the supply of non-adjustable electronic weighing scales to all Licensed Buying Companies (LBCs) must be enforced and non-tempering ensured by the Ghana Standards Authority (GSA) to prevent cheating of farmers through uneven weighing scales and leave Ghanaian cocoa farmers fully happy and satisfied.
May God bless our homeland Ghana, bless our cocoa industry and make us great and strong.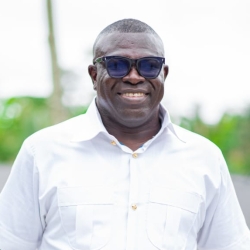 Latest posts by Felix Kwame Quainoo
(see all)