UKAID-funded Reports Give Rare Insights Into The Rising Cocoa And Coffee Industry In DRC
...FREE download the two reports courtesy UKaid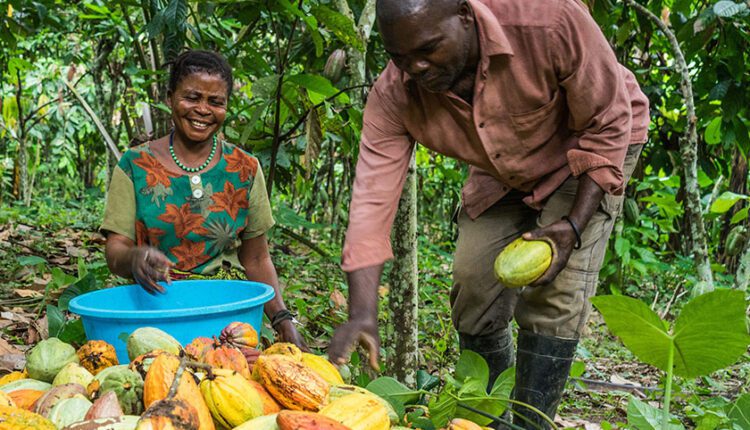 THEO CHOCOLATE
Coffee and cocoa from the Democratic Republic of Congo (DRC) are internationally renowned for their high quality and robust flavour.
The industry is also an important economic driver in Congo. In North and South Kivu, an estimated 250,000 coffee farmers and 65,000 cocoa farmers rely on specialty crops as their primary source of income.
Coffee and cocoa are also valued sources of revenue for many government regulators and bodies. Not long ago, however, Congo's coffee and cocoa industry was in peril.
Rising From The Ashes
After two decades of underinvestment, conflict and high perceived risk, participation in the industry, as well as overall production, declined significantly between the 1990s and 2000s.
In 1990, Congolese coffee exports totalled 120,000 metric tonnes (MT). By the early 2000s, though, coffee exports plunged to 5,000 MT2 while cocoa production declined to only 600 MT.
In recent years, spurred by renewed buyer interest, the industry has led efforts to return Congolese coffee and cocoa to greater prosperity through collective action.
DRC's exporters started to organise in order to reduce their individual exposure to historically poor and negative government engagement.
Moreover, realizing the value of strength in numbers, learning from approaches in other countries, and with assistance from development partners such as ÉLAN RDC, buyers also began to collaborate more closely, now approaching previously ineffectual, poorly coordinated industry investment in partnership.
Emergence Of An Organised Industry
The emergence of a stronger and more organised Congolese coffee and cocoa industry that advocates and supports reform collectively has already resulted in significant growth and a rebound in regulated coffee and cocoa exports in recent years.
On the heels of the execution of major tax reform legislation (ministerial Decree 029 Article 73 in late 2015), exports dramatically increased, when during the 2015/2016 season, 11,391 MT of coffee and 11,076 MT of cocoa were officially exported.
In addition, during the same period, exports of specialty grade coffee (K3) containers (19.2 MT) surged from 21.64 in 2014 to 39.12 in 2017, ushering in a new wave of buyers representing Asian, European and North American markets.
Industry Challenges
Congo's unique coffee and cocoa profile and high production potential have earned the country the title of the "final frontier" among an ever-increasing circle of buyers.
For many, Congo has long been seen as an attractive opportunity for enterprising buyers and exporters despite the industry's underperformance and risk profile throughout the 1990s and 2000s.
In order to fully capitalize on the opportunity, significant and coordinated industry-wide effort was required to address numerous and complex constraints that challenged industry and its performance.
High Formal and Informal Taxes
For years, Congolese exports suffered from prohibitively high tax rates imposed on agricultural products by the Direction Générale des Douanes et Accises (DGDA), the Direction Générale des Recettes Administratives (DGRAD), the Office Congolais de Contrôle (OCC), the Office de la Gestion de Fret Multimodal (OGEFREM), and the Office National des Produits Agricoles (ONAPAC), formerly known as the Office National du Café (ONC).
In addition to high formal rates, operators faced countless checkpoints requiring multiple forms of overlapping administration and roadblocks imposed by the military along key export routes – reported to cost trucking companies over $1.5 million in fees each year.
At the time that these figures were captured, exporters and transport firms engaged in the shipment of coffee from North and South Kivu reported that, in addition to operating and licensing costs, and statutorily regulated taxes and fees, they faced multiple roadblocks staffed by officials requiring payment in order to assure timely exports.
Administrative procedures imposed by regulatory authorities and government officials required as many as 57 signatures and 7 stamps.
The same group reported that exports took as many as 15 working days for most Eastern borders.
Table 2 provides a snapshot of findings from ÉLAN RDC's 2014 report detailing taxation along the coffee value chain at various points.
These market insights about the Congolese cocoa and coffee industry are excerpts from two key reports recently published by ÉLAN RDC – a UKAID-funded market systems development project focused on market failure and the obstacles to inclusive growth.
One of the reports, The Cocoa And Coffee Opportunity In The Democratic Republic of The Congo is a guide to the Congolese cocoa & coffee market for businesses, buyers and investors.
The other one titled Building a National Industry: The Role of DRC Cocoa and Coffee Industry Associations in Industry Development highlights the role of industry associations in the development of the cocoa & coffee industry in the DRC.
By the kind courtesy of the
UKaid
the two reports are available for
FREE download
below:
Latest posts by Kojo Hayford
(see all)