Cocoa Farm Irrigation: Mondelez Leads Private Sector Response To Declining Cocoa Production
"Old and unproductive", that is how Francis Oko Lanquaye described his 4 and half-acre cocoa farm when he acquired it some years back.
It is located at Otwebediedua, near Suhum in the Eastern Region, about 65 kilometres northwest of Accra the capital of Ghana – the world's second-largest producer of cocoa beans.
Mr Lanquaye recounted he had invested a lot of time and resources, and even adopted good agronomic practices towards restoring the trees but all to no avail.
"There was one major problem. In spite of all the work my wife and I put in the rains simply did not come as we expected", Lanquaye recalled.
Ghana's ministry responsible for agriculture puts the annual rainfall figures for the Suhum municipality as ranging between 1270mm and 1651mm.
The figures are the cumulative record of data gathered from the major rainy season (between April and July) and the minor season (between September and November).

Mitigating Adverse Effects of Climate Change
But the situation in reality now is quite different. The effects of climate change is having a huge toll on the West African country and its agriculture.
And cocoa farmers like Francis Lanquaye have a first-hand experience of the impact.
"In the last few years there has a been continuous period of drought rendering all our investments in labour and fertilizer practically go waste", he lamented.
Weather unpredictability, that is extremely high temperatures combined with not receiving rainfall when it is needed, has resulted in consistently plummeting yields and damaged crops.
But the challenge is far beyond a localised problem. Ghana's crop output over the last two years bears ample testimony of what has become a major concern for Ghana Cocoa Board, the industry regulator.
Contrary to the 900,000 tonnes earlier projected by the International Cocoa Organisation (ICCO),  Ghana's 2018/19 crop totalled 812,000 tonnes and dipped further to 800,000 tonnes a year after.
Undoubtedly, the trend also poses a significant worry for global chocolate manufacturing giants who rely on Ghana's premium quality beans for their flagship brands.
Irrigation For All Year Round Production
Mondelēz International is pioneering a private sector response to the challenge of drought confronting cocoa production in Ghana.
A solar-powered drip irrigation project is being implemented by Mondelēz International's sustainability arm Cocoa Life Program with fifteen farmers in the scheme's six operational regions in Ghana.
Country head of Cocoa Life, Mrs Yaa Peprah Amekudzi, said the cocoa farm irrigation intervention is meant to ensure all year-round water supply to cocoa farms to mitigate the effects of climate change.
"As an organisation committed to helping cocoa farmers to benefit from their work and also ensure sustainability, we decided to undertake a research on how other countries were able to generate enough water supply for their cocoa production. The research led to the discovery of the solar drip irrigation system which has the capacity to supply 5,000 litres of water hourly," she explained.
The cocoa tree requires 30 litres of water per day for optimum growth and yield throughout the year. According to agronomists, achieving the daily water requirement for a plantation could triple yield.
For Cocoa Life Ghana, the project marks a paradigm shift from the current rain-fed nature of Ghana's cocoa production where annual yields are highly unpredictable.
Making Cocoa Farming More Efficient
Francis Oko Lanquaye, one of the seventy thousand partner cocoa farmers of Cocoa Life Ghana, is among the 15 beneficiary farmers for the pilot project.
He said the irrigation project has come in good time for his young farm which was cut down and replanted in 2017 with the assistance of the Cocoa Health and Extension Division of Ghana Cocoa Board.
Several dozen metres of drip irrigation tubes run across the 4.5 acre farm with hundreds of cocoa trees.
"Besides supplying the much needed water to my farm, the system also makes it possible to serve the right measure of fertilizer to every tree through the irrigation tubes, drastically reducing labour. It's very efficient and also we no longer have to wait for the rain", Lanquaye said.
For officials of Cocoa Life, efficiency goes with sustainability and that has challenged them to invest heavily in research alongside equally heavy investment in health, education, additional livelihoods, farming practices and the environment, among others.
Towards the One Million Tonnes Target
"Consequently, our farmers are adopting innovative technologies to improve the way they produce cocoa. Mr Lanquaye uses a motorized pruner, motorized slashers for weeding, motorized spraying machines for the application of fertilizer and other agrochemicals, a motorized tricycle for carting his farm produce. Now he has this solar-powered cocoa farm irrigation system which would ensure his cocoa trees receive adequate water at all times", Amekudzi reported.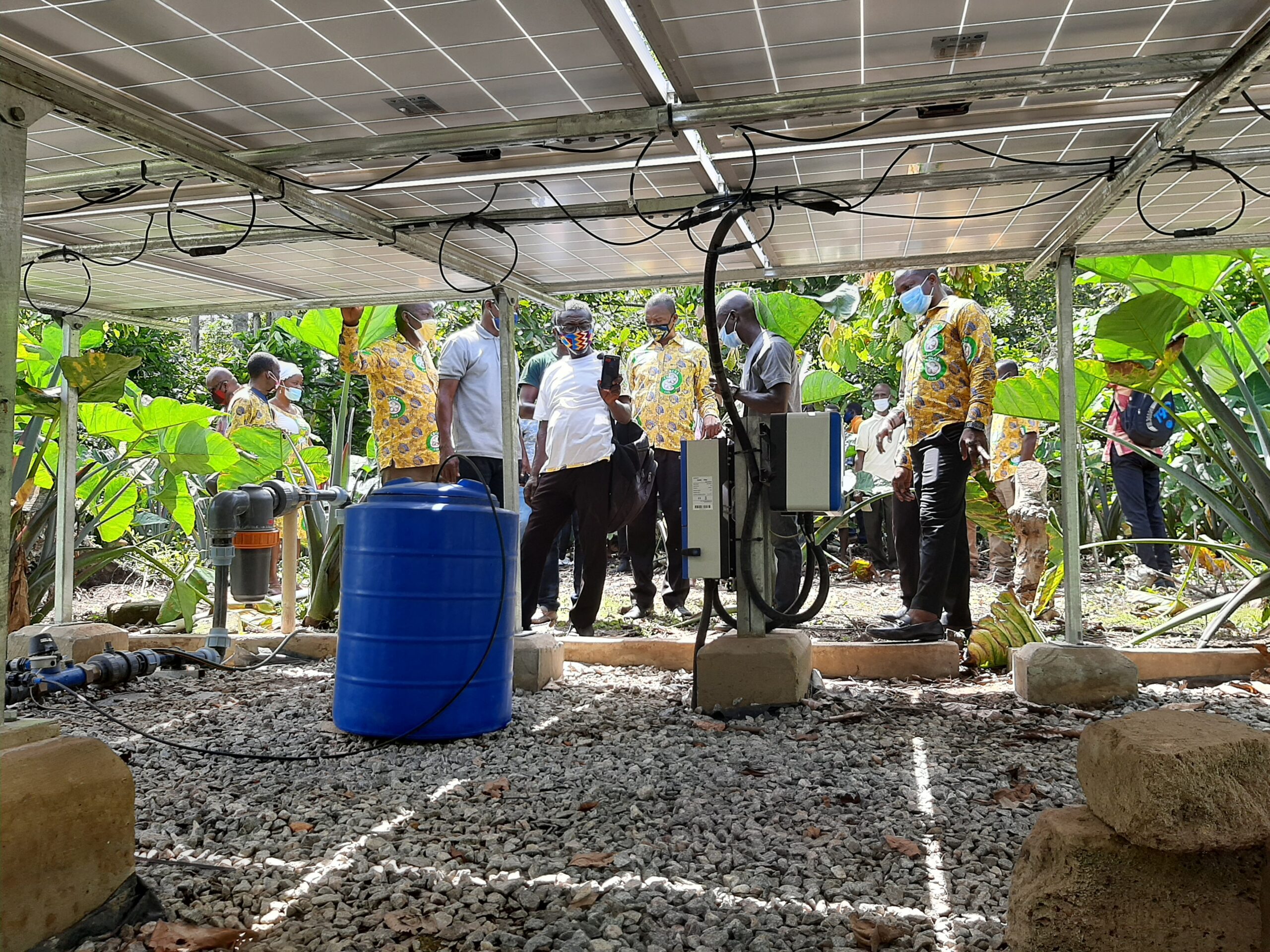 Mrs Amekudzi assured that Mondelēz International will continue with many such productivity and farmer wellbeing enhancement interventions, like cocoa farm irrigation, in conjunction with other private sector actors to complement the effort of Ghana Cocoa Board towards achieving its vision of one million metric tonnes crop output yearly.
Latest posts by Kojo Hayford
(see all)