Coronavirus Forces COCOBOD Shut Down As Staff Test Positive
G

hana Cocoa Board (COCOBOD) will shut down its corporate and divisional offices in Accra for fumigation, effective Wednesday, July 8, 2020.

The COCOBOD Coronavirus measures were announced in response to some staff of the organisation testing positive for the novel coronavirus – COVID-19 – in a mass testing exercise organised for the institution.
COCOBOD Coronavirus Measures
An internal communication signed by Chief Executive, Mr Joseph Boahen Aidoo, assured of measures for the safety of all personnel and families.
"All necessary arrangements have been made for the affected staff to receive the necessary medical attention and contact tracing is currently ongoing to enforce quarantine and isolation measures, wherever applicable, of members/families who have been in contact with such staff," Mr Aidoo said.
According to the COCOBOD Circular, the measures announced are necessary to also safeguard the health and safety of other personnel who may not have been infected.
Mr Aidoo explained in the statement that the temporary closure of all its head office, including the corporate, divisions and subsidiaries, will last for a period of three (3) days ending Friday, July 10, 2020.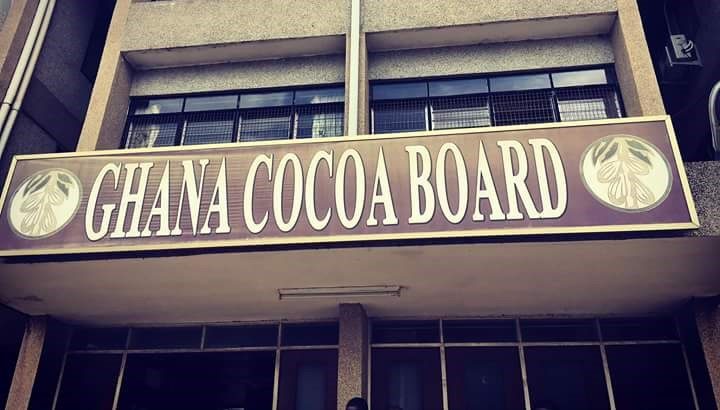 Work Continues Remotely
Reliable sources hinted, however, that staff of the government-controlled institution that fixes the buying price for cocoa in the country are expected to resume work, hopefully on Monday, 13th July 2020.
The Chief Executive also assured the general public that arrangements have been put in place so the closure does not affect regular running business.
"We wish to assure the general public during the period of the close down, that normal work will continue without any distraction as staff have been equipped with the necessary working tools to be able to work remotely from their homes", he said.
Resumption of Regular Business
While work at the regulatory body is said to resume Monday, July 18 2020, COCOBOD advises all individuals and companies with urgent business to reach out for service through its online portal.
Last month, the Chief Executive of COCOBOD, Joseph Boahen Aidoo, has appealed to cocoa farmers in the country to adhere strictly to all the safety protocols in the fight against the COVID19 pandemic.
He was embarking on cocoa farmers covid19 education effort during when he addressed separate functions at Nsuaem No.2 and Wassa-Afransie in the Dunkwa and Wassa-Akropong Districts as part of a working visit to Dunkwa in the Western South Region.
How Much Do You Know About Cocoa? Join the #CocoaChallenge
[wp_quiz id="3904″ question="2″]
Latest posts by Kojo Hayford
(see all)