Cocobod To Distribute Free Chocolate To Cocoa Farmers And Families
World Cocoa Foundation donates in support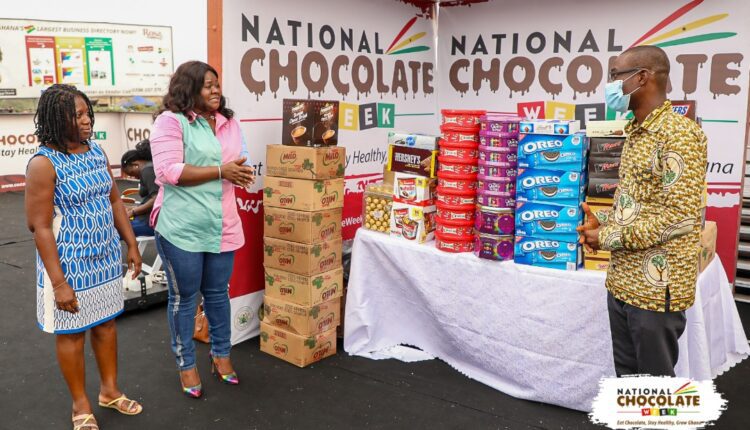 Thousands of cocoa farmers and their families across the seven cocoa-growing regions of Ghana will receive free chocolate and cocoa products as part of the 2022 National Chocolate Week celebration.
Chief Executive of Cocobod, Joseph Boahen Aidoo, disclosed this at the opening of the Accra Chocolate City, one of the venues for the this year's National Chocolate Week celebration.
The gesture by the Ghanaian cocoa sector regulator, he said, is part of a broader strategy to promote the utlisation and consumption of chocolate and cocoa-based products in the country.
Health and Economic Benefits
"Cocobod is vigorously promoting local processing, consumption and utilisation of cocoa. The health and cocoa economic benefits of increased cocoa processing, value addition and consumption are enormous, and we, Cocobod, and all of us as a country will be doing ourselves a great disservice if we fail to take advantage of all these activities and the benefits thereof," Boahen Aidoo intimated.
According to, "Ghana Cocoa Board on our part have purchased cocoa-based products and chocolates and are about to distribute them freely to some of our farmers and their families."
"We want to promote cocoa or chocolate consumption as much as possible," he added.
The Cocobod boss encouraged the Ghanaian populace to patronise chocolate and cocoa products, making them the gift of choice, throughout the weeklong celebration and beyond.
"We are calling on all stakeholders including institutions in the public and private sectors such as banks, telecommunication companies, as well as churches to gift cocoa products to their clients, customers, and members," the Cocobod chief appealed.
WCF Free Chocolate Donation
Meanwhile in response to a call by the Chief Executive, the World Cocoa Foundation (WCF) on Friday 11 February made a donation of assorted chocolate and cocoa products to Ghana Cocoa Board.
"WCF members made a decision 3 days ago to support the effort of Cocobod to distribute free chocolate / cocoa products to cocoa farmers and children in cocoa-growing communities," Dr Betty Annan, WCF country director told Cocoa Post at the handing over ceremony.
The products were sourced from shops in Ghana with funds provided by WCF member organisations.
They included products by Mars Wrigley, Lindt & Sprungli, Mondelez, Barry Callebaut, Hershey, Ferrero, Nestle and Ulker.
Dr. Annan noted WCF-member, Nestle Ghana, donated an additional 20 boxes of Choco Milo energy cubes for school children in the beneficiary cocoa communities.
Latest posts by Kojo Hayford
(see all)