On the 27th of May 2021, Ghana Investment Promotion Authority (GIPC), organised the GIPC Cocoa Value Chain Investment Meeting with key stakeholders in the sector.
As a cocoa farmer's son with a keen personal and professional interest in value governance and strategies to combat the core cause of the challenges smallholder farmers in the sector face, I focused on the interview Citi Fm Breakfast Show host, Bernard Avle, had with the Chief Executive of Ghana Cocoa Board (COCOBOD), Joseph Boahen Aidoo.
My objective was to know and understand Mr Aidoo's overarching strategic investment direction for the Ghanaian cocoa sector, the driving factors/forces underpinning this strategic direction and what the long-term ultimate goal is, looking at the prevailing developments within the sector, from China's entry to implementation challenges with the Living Income Differential (LID) policy, etc.
While the discussion didn't go as I expected in terms of the discussion points and the responses, there were some notable assertions that Mr Boahen Aidoo made that I would like to critically look at. Before we begin this exercise lets note that:
Ghana is not a cocoa Farmer. Cocoa farmers are individuals, who are held to account by local and international organisations on their production practices, labour management, product quality etc. though operating on subsistence with no control over cocoa bean price setting.
Assertion one
Increasing cocoa production as a strategy to increase local value addition, as cocoa processing firms like WAMCO collapsed due to the unavailability of cocoa beans.
I was quite surprised when Mr Aidoo claimed that the collapse of some of the processing firms (e.g., WAMCO) was due to inadequate cocoa beans production. But then he invalidated this assertion unknowingly by talking about the need to increase local processing of beans. Do you see the contrast?
How can inadequate beans lead to a firm's collapse, yet Cocobod's strategy is about increasing local processing to reduce the volume of raw cocoa beans exported. Both can't be right at the same time.
The fact is, Ghana hasn't processed at least 30% of its beans as indicated in Graph One, at least within the period when WAMCO was struggling. Contrary to the Chief Executive's assertion, I believe it is public knowledge the boardroom wrangling among other issues that contributed to WAMCO's eventual collapse (Note: WAMCO is back in operation now).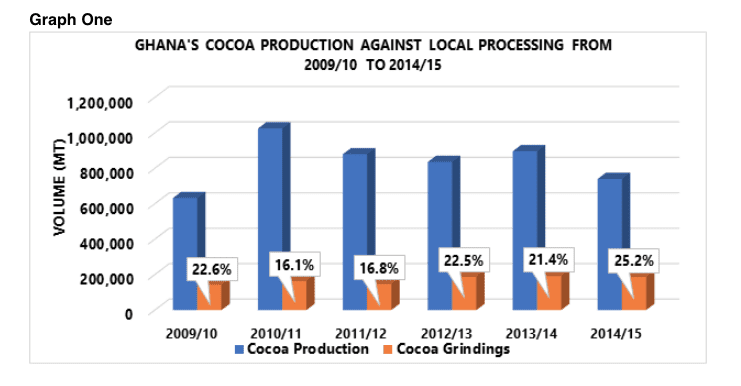 Available figures related to cocoa production and grindings in Ghana rather points to a limited "Light crop beans production" hence its inadequate supply could lead to local processing firms struggling.
Light crop beans are those cocoa beans weighing below the One-gram standard weight required by the export market.
Knowing what Light crop cocoa means tells you COCOBOD's Cocoa Health and Extension Division (CHED) and Quality Control Company will definitely do their best to reduce its production rather than increase it.
However, the puzzling conflict between political ambition, investment attraction and farmers livelihood is that Light crop beans are awarded a sales discount of 20% to incentivize investment in local value addition; hence the inadequate supply due to continuous improvement of agronomic practices by cocoa farmers.
This poses a lingering operational risk to the business model of investors who relied heavily on this discount to site their processing plants in the country.
That being said, if Mr Aidoo meant to say "inadequate light crop beans" was the cause of the collapse of some local processors, then is he saying that their current push for value addition investment into the sector will be based on a strategy to increase the production of sub-standard cocoa beans (light crop beans)? I guess not.
So, I honestly don't think he was referring to inadequate Light Crop beans production either, as the cause of the collapse of processing firms in Ghana.
So, the idea that inadequate or lack of cocoa beans being the cause of the collapse of some local processors (e.g., WAMCO) hence making the increase in cocoa production a foregrounding strategy to boost local value addition is not constructive.
Assertion two:
To increase local processing of cocoa beans
This sounds exciting, right? Value addition is extremely important and hence pushing for investment in that line is an excellent strategy.
I am sure this was at the heart of the breakfast meeting as local processing equates to investment attraction.
My questions are, in terms of our investment attracting strategy, are we looking at attracting domestic investors (DI), foreign direct investment (FDI), expansion of existing processing capacities of existing processing firms or all of the three?
If it was about attracting Domestic investors, then Mr Aidoo didn't talk about how they were going to get domestic investors to venture into the Cocoa sector.
I am highlighting this because as I explained in a previous article (Why Ghana and Ivory Coast Should Exit the FCC permanently), to be able to set up a cocoa processing factory in Ghana, regardless of whether you are a Ghanaian or not, you need to go through a humiliating process with no advantage to Ghana or the domestic investor, to become a member of the Federation of Cocoa Commerce (FCC) as a prerequisite to gaining a beans supply agreement from Ghana Cocoa Marketing Company (CMC).
Multinational cocoa processing firms can easily enter the Ghanaian sector without any FCC membership hurdle as their mother company's existing FCC membership covers them.
This gives the first right of refusal to foreign firms than interested domestic investors.
The Chief Executive didn't explain whether CMC was going to finally leave FCC to make it easier for domestic investors to diversify into the sector.
When Domestic investors get the opportunity to invest in the sector, there is a high probability their profits wouldn't be repatriated to another country as compared to the foreign investor. These monies staying in Ghana strengthen our currency, the Ghana Cedi, and the economy.
I am not against FDI, it's excellent but the ideal principle is to give the first right of refusal in terms of investment to your citizens and make it easy to invest and operate, especially when the supply of the discounted input (Light crop beans) is very limited.
This is the reason why we have a very limited number of Ghanaian Owned Cocoa Processing firms in Ghana.
Secondly, the Chief Executive of Ghana Cocoa Board, Joseph Boahen Aidoo, in the course of the conversation referred to encouraging existing multinational firms to invest in the sector through capacity expansion?
Well in 2018, four of the existing global processors with factories in Ghana (Cargill, Barry Callebaut, OLAM, Ecom Agroindustries) processed over 74% of the world's cocoa beans.
They achieved this by expanding to cocoa-growing countries to not only be close to the source of supply but to also secure the incentives like the 20% discount on Ghana's Light crop beans, reduce shipping cost for high volume exports (raw cocoa), and secure tax incentives in host countries like Ghana, Ivory Coast, etc. In Ghana, foreign multinationals control over 70% of local processing.
As a developing country, I am all for attracting foreign investment. But in critical sectors like the cocoa sectors, we have to also encourage Ghanaian business people to also invest in the sector as well.
The dominance of foreign multinationals in the Ghanaian cocoa sector means widening their web of geographical network dominance and granting them more power within the sector (locally and globally).
This has the potential to limit COCOBOD's decision-making space in developing strategies and concessions meant to protect indigenous Ghanaian-owned processing firms.
An example of the implications of their dominance is the intense competition to secure light crop beans (which is limited in supply as indicated in Graph Two) and the already eliminated credit sales of cocoa beans to local processors, which can be argued as being due to the heavy multinationals presence in the sector and their financial strength to pay cash down (I understand this can also be argued from the creditworthiness of some local processors).
By their multinational clout, they have various means to manage cost, control the value chain governance, indirectly control local policymaking directions, stay competitive both in the supply and consumer markets, hence indirectly rendering domestic processors unsustainable and uncompetitive.
Source: Graph by Author (Raw Data from Cocobod)
In terms of operational sustainability, the Chief Executive didn't explain how they were going to support processing firms, especially the Ghanaian ones to be competitive.
Finally, in terms of doing business in Ghana, Mr Aidoo didn't quite address how he was working with other sectors in Ghana whose services (water, electricity etc.), if consistent and affordable, makes cocoa processing a viable investment area for domestic investors.
To sum it up, Mr Aidoo not outlining which specific investors they are targeting and the strategies he is putting in place to make the sector accessible and sustainable, particularly for domestic investors, was hugely underwhelming.
What is COCOBOD's overarching driver for this investment strategy?
During a discussion with a colleague who is into development research, she shared how the call for improvement of roads and transport in the United Kingdom was driven by the need to improve labour productivity through a reduction in travel time, not because there were potholes on the road.
This conversation two years ago, got me asking today "What is the overall mission underpinning this new call for investment into the sector"?
Is it driven by the need to improve the livelihoods of cocoa farmers or just to increase the levels of value addition or cocoa production quantities to help us make political statements?
Cocoa Board was established as an institution to govern the sector because cocoa production was ringfenced for only smallholder cocoa farmers on a subsistence basis to help in poverty alleviation.
Yet we have not consistently linked our strategies within the sector to the core mission of alleviating poverty in rural Ghana.
Adansi Sweet Co. is one of Ghana's burgeoning artisanal cocoa value addition enterprises
Like I stated in the introduction, Ghana is a country, not a cocoa farmer. Cocoa farmers are human beings who seek to know how the sector's strategy reflects in their pockets and livelihoods.
Setting up new cocoa processing plants or chocolate manufacturing plants or encouraging local consumption of chocolate in Ghana, without linking it up to how it directly improves cocoa farmers' livelihoods or income, as I discussed in my previous article, makes the sector's investment strategy lack the coherence it requires.
Value addition is great, but it puts money in the pocket of the investors and provides some "jobs" which by the way is inaccessible to the cocoa farmers' children.
On a macro scale, we will see some GDP increase which can paint a good picture about our economy. However, of what importance is GDP increase if it doesn't reflect in actual poverty alleviation in the cocoa-growing communities, as the sector is set up to achieve.
Again, as highlighted earlier, my colleague made me understand how possible it was to measure the value of road improvement with the reduction in travel time to improve national productivity, so the COCOBOD Chief Executive not explaining how this investment drive for value addition leads to directly lifting cocoa farmers out poverty, was very worrying and disappointing.
Any strategy in the cocoa sector that is not foregrounded with the sector's poverty alleviation mission for smallholder cocoa farmers is already unfair, unsustainable, exclusionary, incoherent and a disjointed strategy.
Latest posts by Kwame A. Kwarteng
(see all)