Are Cocoa Farmers Paid The Whole US$ 400/MT LID Levy?
Is Cocobod saying that the US$: GH¢ exchange rate for 2020/21 remains the same as 2021/22?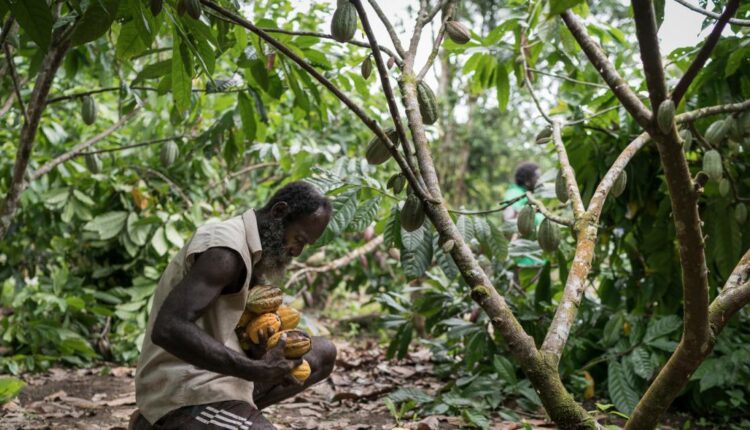 ACIAR
In the year 2020, Ghana and Ivory Coast were able to secure a $400 per metric ton of cocoa beans as a Living Income Differential levy to be paid by any buyers of Cocoa beans from the two West African countries. With Ghana's positive optimism of buyers paying the LID in perpetuity, they decided to add this extra income to the producer price for the 2020/21 crop year.
This crop year, 2021/2022, Ghana Cocoa Board (Cocobod) announced its decision to maintain the producer price, praising itself as being able to maintain the price without any increase, yet higher than that of Ivory Coast.
In this article, I would highlight how Cocobod is likely to pay less than the forex value of the LID to cocoa farmers for the 2021/2022 crop year. I will make a recommendation for all of us and interested stakeholders that cares about Cocoa farmers livelihoods, to keep an eye on the US$ exchange rate for the crop year and pressure Cocobod to pay smallholder cocoa farmers their LID levy arrears.
Is Cocobod paying the Entire $400 LID levy to Cocoa Farmers?
Cocoa is purchased in Ghana Cedi (GH¢) from smallholder cocoa farmers by Licensed Buying Companies (buying agents for Cocobod) and sold in United States Dollars (US$). This makes the exchange rate an important variable to consider when it comes to what cocoa farmers are supposed to receive in "Ghana Cedi". Whereas a "fixed producer price" (in Ghana Cedi) is announced at the beginning of each annual farming season, the exchange rate of USD to GH¢ in terms of sales is determined by the "demand and supply dynamics" of the forex.
2020/2021 Crop Year
When the Ghana government secured the "$400"/mt Living income Differential levy (LID), it announced that the entire 100% of the money will be given to farmers. Ghana government decided to add the US$400 LID in its cedi equivalent to the producer price for farmers. So, to be clear Ghanaian cocoa farmers haven't received any increase in their Producer price since 2019/20 crop year as shown in table one. The differences between the GH¢10,560/mt Producer price for 2020/21 and the GH¢8,240 for 2019/20 crop year was the Ghana Cedi equivalent of the new LID i.e., GH¢2,320. However, knowing that we have 12 months in a crop year and cocoa is not only purchased and sold in October but throughout the crop year, the question of which exchange rate is used at which period cocoa is purchased and sold is crucial.  As shown in graph 1, the exchange rate for the 2020/21 crop season closed at an est. 5.97 as shown in graph one. During the 2020/21 crop season, cocoa farmers were paid the LID using the exchange rate of $1: Gh¢ 5.8. This represented an excellent forex forecast by Cocobod. If Cocobod's agreed exchange rate with buyers for the crop year was US$1: GH¢5.8 and not anything higher that can lead to Cocobod owing farmers some arrears, then it can be said that cocoa farmers received averagely an accurate LID payment as expected. So how about the 2021/2022 crop year?
Graph 1: Monthly average of the Dollar to Cedi Exchange rate from Oct 2020 to Sept 2021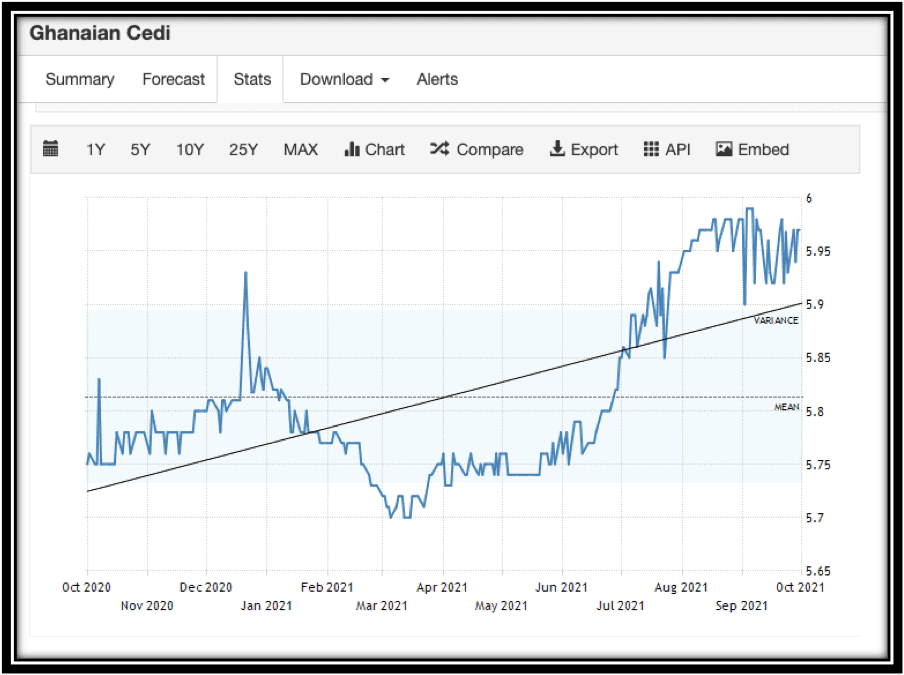 Source: Trading Economics 2022
2021/2022 Crop Year
Cocobod announced that it is maintaining the 2020/21 Producer price of GHc10,560/mt for the 2021/2022 crop year. Cocobod hasn't explained why the Producer price was maintained than increased. First, if we use the same logic for the pricing for the 2021/2022 crop year, then it means Cocobod is using last crop year's exchange rate i.e., US$1: Gh¢5.8 to pay this crop years LID levy to farmers. As shown in Graph 2, the average US$ exchange rate for this crop year is forecasted to range between 5.95 and 6.4. Kindly note, minimum exchange rate since the start of this crop year is higher than 5.8.
Graph 2: Monthly average of the Dollar to Cedi Exchange rate from Oct 2021 to Sept 2022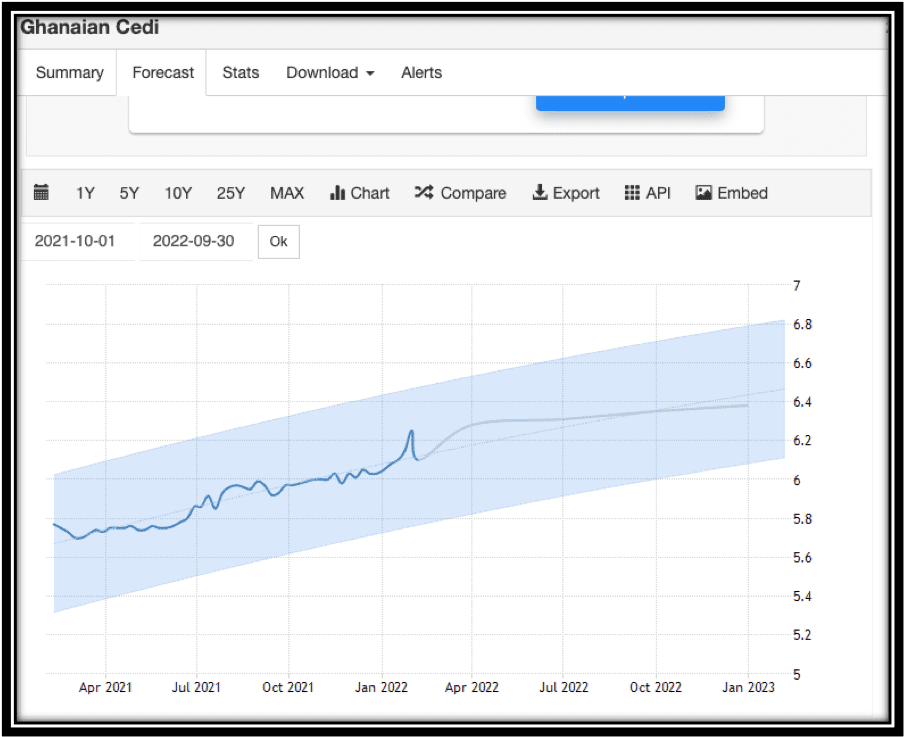 Source: Trading economics 2022 
So, the question is, is Cocobod saying that they maintained the previous year's exchange rate of Gh¢5.8, when the exchange rate for this crop year (Oct 2021/Sept 2022) started at GH¢5.95? So, these are the options. First, maybe Cocobod agreed to maintain a US$ 1: Gh¢5.8 exchange rate with its buyers for this crop year because their forex forecast showed that the mean US$ exchange rate will hover around Gh¢5.8. As shown in Graph 3, the actual exchange rate is currently above GH¢5.95. Let's jot today's date down and look up the year 2022/23 to see if this was right. To be conservative, if the mean exchange rate for this crop year is Gh¢6, with a forecasted cocoa production volume of 1,000,000 tons, then Cocobod would owe smallholder cocoa farmers by a total of Gh¢80,000,000 in LID arrears.
Maybe Cocobod wants to manage the forex risk and pay the variance, if any, at the end of the crop season to farmers. We live to see at the end of this crop year. If this crop year's US$ exchange rate even remains at Gh¢6, it means Cocoa farmers are being paid GH¢80/mt less of LID/mt they are supposed to receive (Ref to table 1 for Assumptions).
Table One:
MT= Metric Tons

LID= Living Income Differential

CROP YEARS
2019/2020
2020/2021
2021/2022
US$: Gh¢ Exchange Rate
–
5.8
?????
LID/mt in US$
0
400
400
(A)  LID/mt in Gh¢ (Paid)
0
$400x Gh¢5.8

Gh¢ 2,320

$400 x???

Gh¢2,320

(B)  Actual Producer Price /MT in Gh¢ (paid)
8,240
8,240
8,240
(A + B) Total money paid to cocoa farmers (Cocoa/ MT)
8,240
10,560
10,560
Table One is to demonstrate that there is a call to action. Cocobod needs to declare the US$ exchange rate it is using for this crop season (2021/2022). As the forecast shows in graph two, we expect the exchange to average at above Gh¢6. So, with our cocoa production being forecasted to exceed a million tonnes in this crop year, an annual average of US$ to Gh¢ exchange rate of Gh6 would mean cocoa farmers losing at least GH¢80,000,000 in total. I also don't believe that Cocobod's finance team projected that the US$ to GH¢ exchange rate was going to be GH¢5.8 as it was last crop year and hence used that for their forward sales for this year. With our average of 800,000 smallholder farmers in Ghana, each farmer is losing at least GH¢100 per metric tonne, an amount that is so huge for poverty-stricken farmers in rural Ghana. We can't pretend to be so caring towards cocoa farmers when we leverage financial technicalities to further reduce the value of the unfair value, we award to them from the value chain and intelligently rig them of what sincerely belongs to them.
Graph 3: Current Performance of the Ghana Cedi from Oct 1, 2021, to Feb 7, 2022.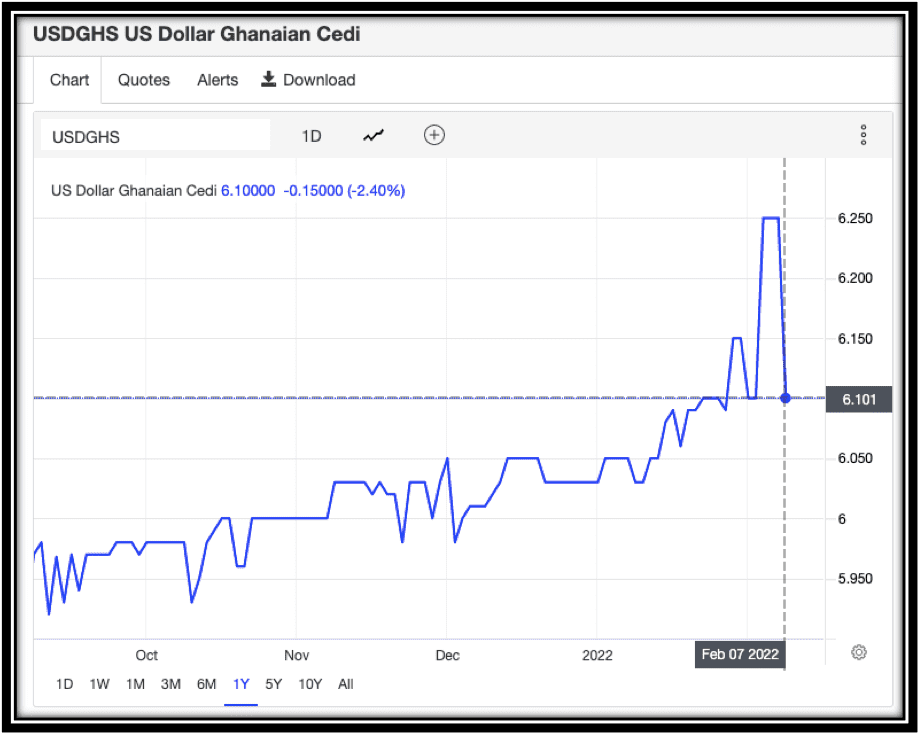 Source: Trading economics 2022
Graph 3 highlights the current state of the Ghana Cedi to the US Dollar to prove that there is no argument that Cocobod's finance team pegged the Ghana Cedi to US Dollar exchange rate above 5.8. So, now the question, is Cocobod keeping part of the LID meant to be given to Smallholder Ghanaian farmers?
To conclude, the income earned by cocoa farmers needs to be given to them. The real value of the income they receive from Cocobod, and the cost of production are heavily affected by our decades of the high inflation rate, especially knowing that they have no say in the producer price of cocoa. So, we can't punish them again by paying them a reduced forex value of what they have genuinely earned. The current Government has done a phenomenal job in securing the Living Income Differential (LID) for these poor farmers. However, if we have agreed and publicly declared to give the entire $400, then we must truly and transparently give the entire LID to the farmers. I know that the crop year just started hence it will be easy for Cocobod and other sceptics to downplay this article by saying that the crop year hasn't come to an end for us to know the actual average of the US$ to Gh¢ exchange rate. However, with the current US$ forex rate already above 6.13 and forecasted to average at 6.28 by end of March 2022 according to Trading Economics, it's only fair and honest for us to pay smallholder farmers what they are due. When we start the new crop year 2022/2023, I will write another article to report on the actuals.
The call to action is for Cocobod to declare the agreed exchange rate with its buyers to cocoa farmers so that we can calculate the exact Ghana Cedi equivalent farmers are supposed to receive.
This now raises the question, are cocoa farmers being paid 87.15% of the world market price as the Producer price for 2021/22 crop year as claimed by the Cocobod press release? We will brief you about it very soon.
Latest posts by Kwame A. Kwarteng
(see all)